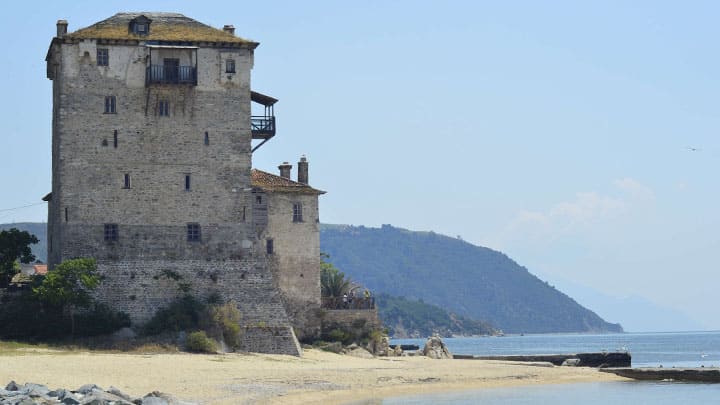 Berg Athos Motoryacht Tagestour
Yacht-Tour zu den Heiligen Klöstern von Berg Athos, 2023
Entdecken Sie die einzigartige Schönheit der Mönchsinsel Athos von einer Motoryacht aus. Wir starten am frühen Morgen aus Neos Marmaras oder dem Yachthafen Porto Carras in Richtung «Agio Oros», der dritten Halbinsel Halkidikis. Da bis heute Frauen der Zutritt zur Mönchsinsel verwehrt ist, bleibt zur Besichtigung der atemberaubenden Klöster und Natur nur der Seeweg. Wir fahren so nah an der Küste entlang, dass Sie einen unvergleichlichen Blick auf alle Klöster und Sehenswürdigkeiten haben werden. Danach gehts weiter in das malerische Fischerdörfchen Porto Koufos (Sithonia) für ein leckeres Mittagessen. Auf unserem Rückweg nach Neos Marmaras können Sie an Deck entspannen, ein Bad im kristallklaren Wasser nehmen und den wundervollen Sonnenuntergang genießen.
Startpunkt
Für Touren ab Sithonia ist unser Startpunkt der Hafen von Neos Marmaras – (leicht zu erreichen für Gäste aus Gerakini, Psakoudia, Metamoforsis, Nikiti, Elia, Toroni, Sarti, Sykia, Vourvourou, Armenistis, Ormos Panagias, Agio Nikolao)
Für Touren ab Kassandra nutzen wir als Startpunkt Pefkochori Pier (ehm. Kapsohora)
(leicht zu erreichen für Gäste aus Nea Moudania, Nea Fokea, Athitos (Afitos), Sani, Kallithea, Kriopogo, Polychrono, Haniotis, Paliouri, Loutra Agias Paraskevis, Skioni, Possidi, Fourka, Siviri)
Sehenswürdigkeiten auf unserer Reiseroute (bis zu 500m entfernt):
Agias Annis Skiti
Nea Skiti
Heiliges Kloster von Agiou Pavlou
Heiliges Kloster von Dionysiou oder «Nea Petra»
Heiliges Kloster von Gregoriou
Heiliges Kloster von Simonopetra
Hafen von Daphne
Heiliges Kloster von Xeropotamou
Heiliges Kloster von Panteleimon oder Rossikon
Xenofontos Skiti
Heiliges Kloster von Xenofontos
Heiliges Kloster von Docheiariou
Arsanas (Werft/ Hafen) des Heiligen Klosters Zografou
Arsanas (Werft/ Hafen) des Heiligen Klosters Chilandariou
Ihr Traumausflug startet hier!
Alle Schiffe sind für mindestens 8 Personen ausgelegt und verfügen über ein WC, warmes Wasser, eine voll ausgestattete Küche, Sicherheitsausstattung, Radio/CD-Player, Bimini Top (Sonnenschutz über dem Cockpit), Sitzpolster und ein Dinghy (motorisiertes Beiboot). Eine Kabine steht zu Ihrer privaten Verfügung bereit. Beispielsweise als Schlafplatz für Kinder, zum Umziehen und Verstauen Ihres Gepäcks.
Inklusive:
Mehrwertsteuer
Schiffs-/Hafensteuern, professioneller Skipper
Wasser, Strom
Trinkwasser, Softdrinks, Snacks, Kaffee und Tee
Nicht inklusive:
Benzin (soweit nicht anders angegeben)
Mittag-/Abendessen
Strandtücher
Karte Heiliger Berg Athos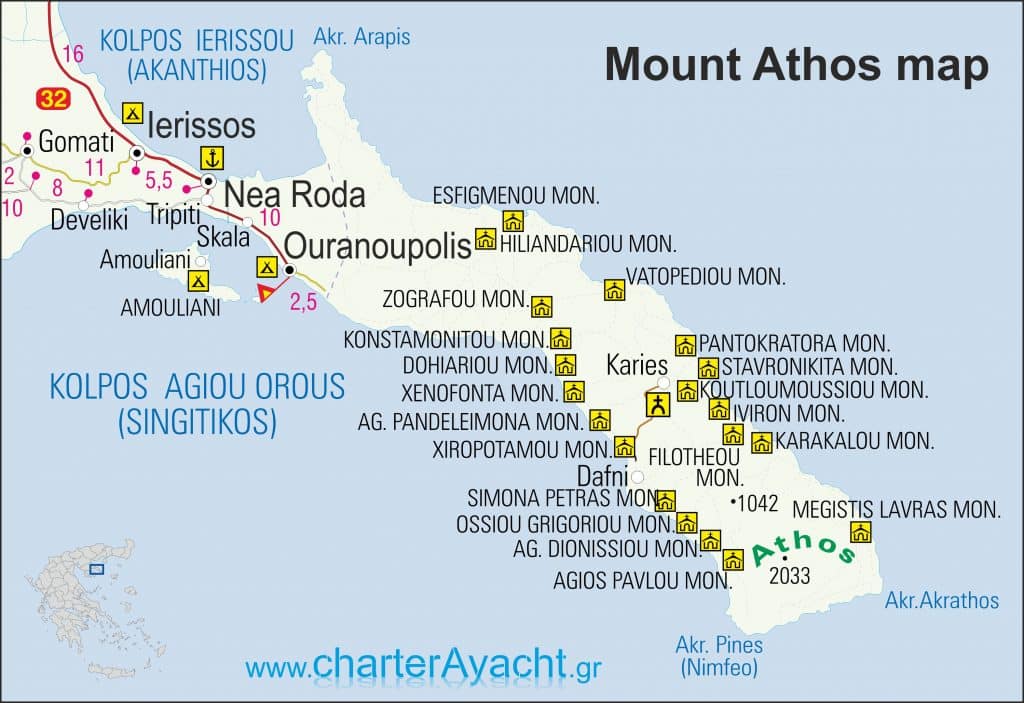 send us an email to
Don't forget to mention:
Number of Persons
Possible Dates
Area
If you require a skipper (applies to multi-day charters only)
The hotel you 'll be staying (applies to day charters only)



Sehen Sie sich unsere Bewertungen auf Tripadvisor an

: suchen nach "CharterAyacht, Neos Marmaras"
Categorised in: Halkidiki Yachtausflüge
This post was written by christoforos