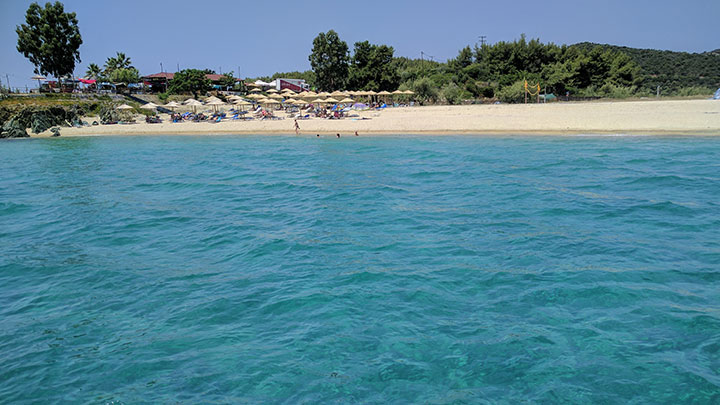 11 best Halkidiki beaches in Kassandra & Sithonia, Greece 2023
Best beaches in Greece & places to visit in 2023
This is what I have to say about Halkidiki beaches:
I have been around. And not only in my country Greece but to Croatia, Italy Portugal, and more European destinations. And as far away hot tropical places as Mauritius, Dubai, and Hawaii, and in 2019 Cuba
If anybody asks me :
Christophoros, where are the best beaches in the world?
I gonna have to say, in all honesty, Greece and more specifically Halkidiki beaches for 2023. Here in the North Aegean sea, it's a magical combination of minerals, wind, and weather patterns that create this strange island-like environment of Chalkidiki. There is the magic combination of crystal clear waters (yes, everywhere in all of Greece, that is the advantage of coming late in the industrial indexes) thick sand that does not stick on you or your swim suite. Beaches for all kinds of travelers from the family with children-friendly shallow waters of Hrouso beach at Paliouri to the wild alternative style Goa and the wavy windy kite surfers paradise of Kalamitsi.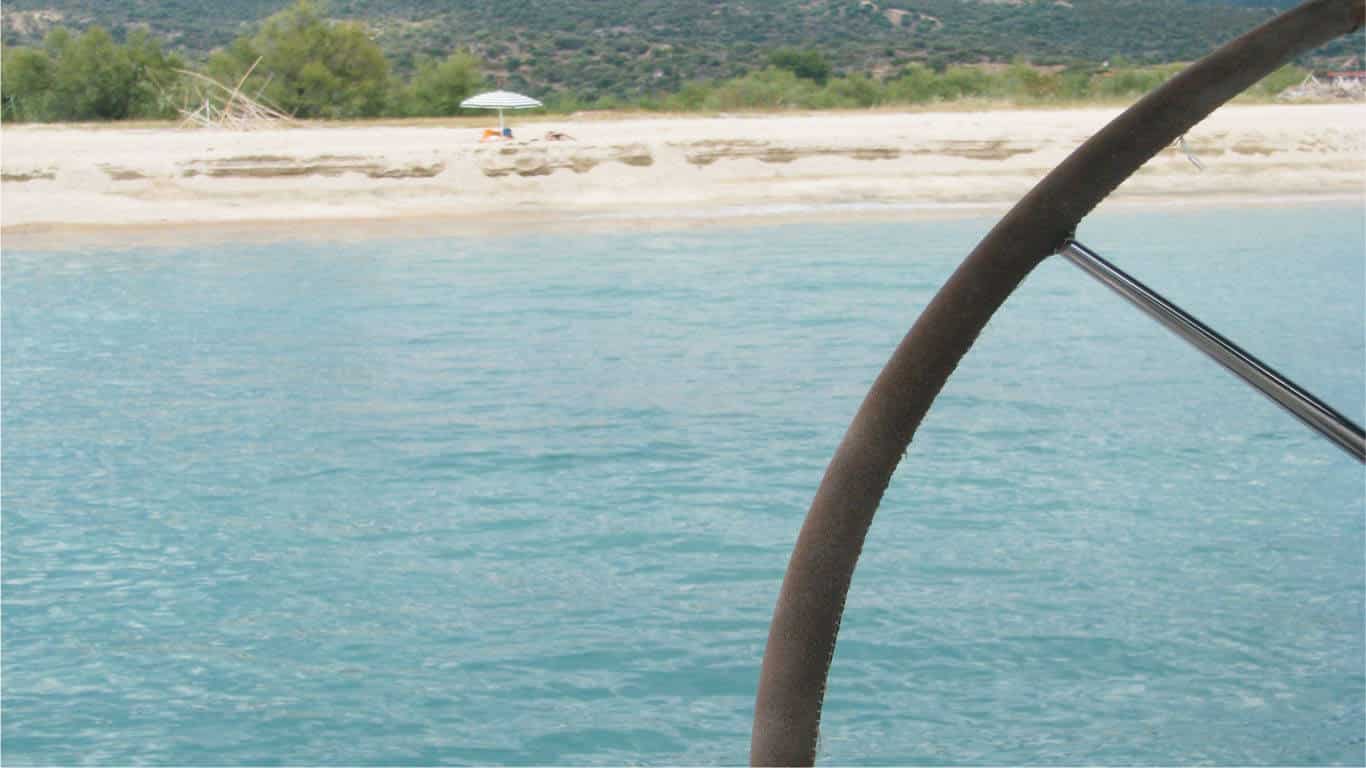 But first of all what is Halkidiki, and where and how do you get there?
Halkidiki is a complex of three long and narrow peninsulas in the North of Greece. It's part of Central Macedonia. The North is mountainous with Mt. Holomontas, and the South is covered in forests and beaches. Local produce you should try to include olive oil, honey, excellent cheese, and wine. Chalkidiki has some magical roads that run at the edge of the forest right by the turquoise sea. The entrance to Halkidiki is the second largest Greek city of Thessaloniki and its International Airport Macedonia (SKG) practically doubles as Halkidiki airport.
For a long time, Halkidiki beaches were known only to the Greeks and mainly the inhabitants of Thessaloniki. Then the crises hit us, and now we are trying to let other people know about this hidden paradise.
I thought the subject of where is the best place to stay in Halkidiki, which are the top beaches and destinations would have been answered in today's internet age. I googled it, and to my surprise, I found out that it was all written by foreigners or Tourist businesses promoting all the same places for swimming.
10 best beaches in Halkidiki according to TripAdvisor:
Kalogria Beach (Nikiti)
Kallithea Beach (Kallithea)
Kkavourotripes & orange beach – Sarti, Sithonia
Lagomandra beach (Neos Marmaras)
Karydi (Vourvourou)
Afytos Beach (Afitos)
Kalamitsi beach (Sarti)
Trani Ammouda Beach (Ormos Panagias)
Sarti Beach (Sarti)
Toroni Beach (Toroni)
and the runner-ups are:
Glarokavos beach
Agios Ioannis beach Sithonia
Armenistis beach
Come on! Really!? I would NOT go swimming in half of those Halkidiki beaches. This is what we are showing to the tourist as the best? These places?
Don't get me wrong they are lovely, in May or Late September, with almost no tourists, but during the summer with the hoards of low-budget Bulgarian, Romanian, and Skopje friends and their children driving for the weekend from their homes, there is no place to put down your towel in most of these sites. The crystal clear waters have a suntan oil spill on top of them.
After all, they all have read the same Tripadvisor 10 best Halkidiki beach list, the same Greeka.com article, etc. Even the locals got it wrong (I think) as my friends on gohalkidiki.
So I decided to write a new list of the best Halkidiki beaches, for another traveler, who likes to mingle with the locals, does not like the crowds, and wants to find that secluded gem of a beach to enjoy almost alone.
Here is my list of best beaches in Halkidiki with reviews (some of them secluded)
Best Halkidiki beaches in Kassandra, Greece
Posidi beach at the lighthouse
It's a bit difficult to get there. A long strip of land vanishes into the sea. One side always has calm waters. Pretty steep beach two steps and you are deep enough to swim.
Golden beach South of Glarokavos beach
I love this place. Excellent sand, but not many people (mostly locals know about this site). Is protected from the usual sea breeze, so the shallow waters are calm. A lot of trees near the beach.
Chrousso or Xenia beach at Paliouri
I had the most fun in this place in Late September. It's a very long gulf so you can make either party at the beach bars (they have nothing to envy to Mykonos beach bars as they are top of the line) or find a quiet piece of the beach (probably near the camping at the North end.

Top Halkidiki beaches in Sithonia, Greece
I don't want to repeat myself, so I have to mention that all the above are white sandy beaches with bright turquoise blue water to deep blue.
Spathies beach South of Kalogria near Nikiti
I small beach used mainly by the people that have a villa nearby. There is an unbelievable 10m beach on the North side of the cove if you swim there. One of my favorite places with the sailing boat is when there is a Meltemi wind, and I have a day trip.
Kamenos at Porto Carras grand resort
Heaven on earth. One of Porto Carras's grand resorts secludes coves accessible only by walking 3 miles or by yacht. Every day you will find a lot of sailboats and motor yachts enjoying this secluded heaven.
Ethnic @ Tristinika Halkidiki beach
The best beach in the world. The sand is just right, thick but just enough. The beach bar on top of the rocks plays excellent music, alternative, and classic rock. The people it attracts are precisely like the bar, different, fresh, and not loud. The water has this blue color you can't forget. And the light is different and cleaner, so you get great photos with no effort.
Marathias at the SouthWest tip of Sithonia
Not accessible at all unless you have a boat. The raw wild beauty of unspoiled scenery at the land ends since after that its 60 Nm of the open sea until the Sporades Islands
Kriaritsi Halkidiki beaches near Sarti
It's camping. Welcome to Seychelles… in Greece. The beautiful grey round boulders only make the contrast to the white sand and the turquoise waters even more dramatic. I love spending the night on the yacht here as it's well protected and swimming in the dark makes the plankton sparkle in the water.
Kavourotrypes trademark Halkidiki beach near Platanitsi and Sarti
Probably the best beach in Halkidiki. Access is not easy, no signs, dirt roads, etc. but the place is like you moved to the poster of a tropical island beach.
Kryfo at Diaporos Halkidiki island
Deep narrow fiord at Diaporos Chalkidiki island. Protected in all weather. Three small sandy beaches around the boat when I drop the anchor here. Only by boat and best spend the night, or you will be missing the early morning swim. Now that is an experience to fill your soul up to get through a hard cold winter.
Karagatsia at Amouliani Halkidiki island
A small cement pier and an atmosphere from an old Greek Aegean sea island beach. Very Very few know about this place and be sure to visit in case you rent a boat from Ouranoupolis, right after Drevia islets and Alykes beach.
The Kavantza
15m of a beach by 2m. Small cliff rock in the back. No mobile coverage. Just heaven. Probably the most romantic place in Halkidiki. I am not going to tell you where it is. It's just for my friends and me.
Honorable mentions for Halkidiki beaches
Galazia nera (Blue lagoon) at Diaporos Halkidiki island
Hawaii at Diaporos
Agia Kyriaki
Potidaea beach North of the bridge
The Cave at Kartalia Southern tip of Sithonia
Miraggio beach at Kanistro Kassandra
No name long beach between Kryopigi and Polyhrono just south of Kassandra Pallas
Goa Beach bar
Halkidiki beaches map
Here is the chart with all the places marked. You can find a lot of information about the beaches I describe above. Also, I put in some beach bars. You can see even some of the routes we do with our sailing and motor yachts from Neos Marmaras, Miraggio, Pefkohori, and Ormos Panagias. I will try to add more information in the future.
Vourvourou Greece Halkidiki beaches
Vourvouro! What an area! It's the leeward side beaches in the narrow channel between Diaporos Halkidiki island and the mainland. Its beach after beach, with beautiful coves with a small beach as is Diaporos Island. One of the best ways to explore the whole area is by boat. There are quite a few options for this:
by Kayak if you like sports
by a motor dinghy boat, you can rent. There are a lot of companies in the area offering mainly 4.60m to 5m fiberglass boats for rent with a 20-30Hp engine. These boats you can rent these without a motorboat driver's license (If you don't know anything about boats it's not as easy as it looks and you should not rent it as at a minimum you are risking hitting something and paying for repairing the boat, to a maximum of hurting a swimmer)
by traditional kaiki together with 30-40 others
by private motor yacht with a skipper (and crew if you like)
by private sailing yacht with a skipper. It is probably the most cost-effective option as it's a private trip with someone that knows the area and the price should not be more than 400-500euro for a group of 4-6 people.
Halkidiki resorts
I know a lot of people like to book a stay at a resort. It's a great option as there are some significant resorts in Halkidiki. There are a couple of catches though.
Worldwide the philosophy of the resort is to try offer to you everything so you will not bother to go anywhere else. That's fine, sometimes (me included) you don't want to go exploring, you just want to melt slowly by the pool or marinate in the warm water. It could be exactly what you need. However, some traveler does want to get out and around. Halkidiki especially is pretty big, and there are a lot of places to go and discover. Rent a car and start making day trips you will be amazed and fill your eyes with views and images to remember. The environment is entirely safe, and Greek people are amiable and will get out of their way to help you if you ask politely (almost every local speaks enough English). Drive in the forest, discover the secluded beach, charter a sailing boat, and enjoy sailing or fishing, etc.
some resorts look good on paper but are not very good with old hotels and lousy service
some resorts have reasonable room prices, and everything else is costly
some are entirely away from everything else and make the distances seem too far to go and do anything out of the hotel
Best places to stay in Halkidiki
When you decide to stay in Halkidiki for your holidays, there is one primary choice to make: Sithonia or Kassandra.
Kassandra is much more touristically developed and usually more crowded. So if you like to have club and beach bar options, you should choose the first leg of Chalkidiki
Sithonia is less touristically developed and still untouched by industrial tourism places you can go to. Fewer hotel and club options though.
Wherever you decide to stay, you will find all kinds of hotels and options.
Best beach bars Kassandra & Sithonia Halkidiki
I got four that must visit
Ethnic Beach bar at Tristinika beach. Alternative style alternative people, mostly Greeks, and a fantastic beach. Unbelievable sunsets
Riviera beach bar at Agios Ioannis near Nikiti. The modern style is on par with Mykonos beach bars, a great beach, and weekend afternoons party like only in Greece you can
Goa beach bar near Sarti. Dramatic cliff scenery a beautiful small cove and a general mood at the bar that makes you relax, laugh and drink.
Lefki ammos (White sand) beach bar at Chrousos Xenia beach at Paliouri. Ok, the beach is excellent, it's one of the most popular among young Greeks year after year, but what makes it so unique is its Saturday evening parties. Contemporary music, dance like crazy.
Why my list is different
I hope by now after reading the above you feel it's different. First of all, it comes from my experiences. I am a sailing boat charter skipper. For more than ten years I work with my sailing boat for six months every summer season in Halkidiki and Northern Sporades islands (Skiathos, Skopelos, Skyros, Alonnisos, and the small islands of Peristera, Kyra Panagia, Psathoura, Piperi Gioura in the national wildlife park for the protection of monachus monachus Mediterranean seals). Not to mention that I have spent all the summers of my life at or near some place in Halkidiki. I have visited all the monasteries of Mount Athos from the Westside. I had a vacation House at Hanioti for the better part of 20 years. And I have been an active volunteer in Agios Nikolaos YMCA camp as a staff member (where we used to take the kids sailing all the way to diaporos island and camp there for a day or two). So I am a local, a real one with a lot of friends in the area and I have unique knowledge of most places I have visited both from land and the sea. And I have been to all of them, all of Halkidiki beaches.
I thought long and hard to decide what to include. In Greece everywhere you go you always find new beautiful corners. So I tried to give you some places that are top and not so much known to foreigners.
Sometimes when I am talking to some travel agent that is nervous about our services I try to explain that sailing around Halkidiki on a sailing or motor yacht makes people so happy because it's so different from their everyday life back home.
The sun is shining,
the water is warm and
you can see the sandy bottom,
you are sailing with no engine noises, and the rest is easy.
We just take care of you and let you enjoy yourself on your own yacht.
Frequently we see dolphins.
Doing some traveling fishing almost always.
We stop at places you can't go by car.
The yachts are meticulously maintained and go through rigorous safety checks required by the state.
The skippers are serious about their seamanship, and guests' safety and relaxed about everything else.
We do try to make everybody have the highlight of their holidays with us. Just tell the skipper what you prefer, and he will make sure you have the best day, ever!
One of the best things is the taverna stop. You can try a fresh big grilled fish; it's going to be an experience.
Categorised in: Halkidiki information
This post was written by christoforos