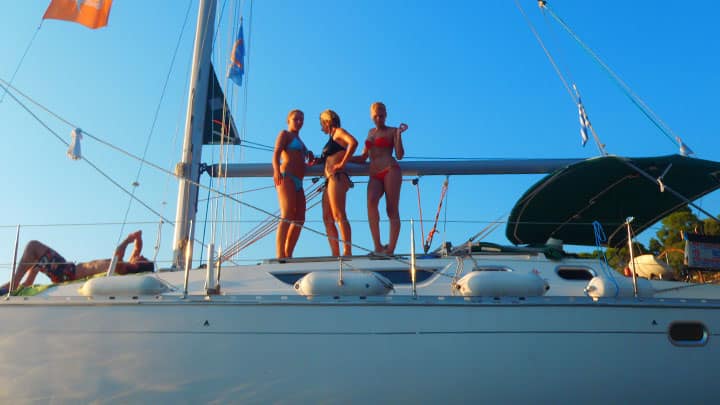 The best 2019 Halkidiki sailing PRIVATE day boat trips 7 hours
Halkidiki day sailing cruise of Chalkidiki. Rent a sailboat for a day for your 2019 summer holidays.
Sailing around the 'legs' of Halkidiki for a day can be a unique experience. We leave in the morning from Neos Marmaras port, or Porto Carras marina or Pefkochori pier at 11:00 for a sailing tour of Toroneos Gulf.
Starting point
Access to the embarkation point of Neos Marmaras is easy from Gerakini, Psakoudia, Metamorphosis, Nikiti, Akti Elias, Lagomandra, Vourvourou, Ormos Panagias, Agios Nikolaos, Pyrgadikia, the 2nd leg of Halkidiki – Sithonia in general, where we start our sailing tours.
Itinerary of the Halkidiki day sailing from  Sithonia
Kelyfos also known as Helona (means Turtle or черепаха) is our first stop. Swim the crystal clear waters or snorkel as the rocky bottom has a lot of life to observe. After that, the time for the usual sea breeze is up and we open sails for the south to Gerochristos island and Lemos beach. Here the sandbar that connects the peninsula with the mainland has the sea on both sides. The beach has been visited by famous movie star yachts. Used to be just ours, now everybody wants to visit Angelina Jolie beach. Next, it's time for our stop to a Taverna. You can enjoy your sandwiches on the yacht or order fresh fish at the Taverna.  After lunch, we tour the secret coves south of Neos Marmaras and stop for one last swim before returning to one of the most scenic beaches of Halkidiki, Kamenos. Here the green of the trees comes all the way to the clear waters.
The Itinerary may change because of the weather or if the guest like to do something else, for example, eat lunch on the way for more sailing time.
Go sailing to get away from the tourist crowds of Kassandra for a day. Charter one of our yachts. Enjoy the sun the sea and the breeze like never before.
 Starting point
From Sani, Fokea, Potidea, NeaMoudania, Kalyves, Afytos, Kalithea, Kassandria, Siviri, Posidi, Siviri, Paliouri, Miraggio, Hrousos, Hanioti, Polychrono, Kryopigi, the 1st leg of Kassandra in general, we use marina Miraggio (entrance without a ticket) or Pefkochori (ex Kapsohora) pier for pickup.
Itinerary of the Halkidiki day sailing from Kassandra.
We pick you up from Pefkochori pier (easy accessible by car or taxi) or Miraggio marina (no cost for entering the marina for our guests) at 11:00 in the morning.
We visit spalathronisia area, laimos beach, Gerochristou island peninsula, The water is warm crystal clear. Away from the tourist crowds.
Then we stop at neos Marmaras to visit or have lunch at "ta Kymata" taverna restaurant for fresh fish or whatever local delicacy you would like to try (the best in Halkidiki).
Then last stop at Kelyfos island before returning back at 19:00.
This package of the private sailing day is ideal for birthdays, anniversaries and any kind of party you can think of.
Surprise your loved one or friend
Let us know to take care of cake, champagne, wine or any other surprise you like.
The only things that you really need is a hat, swim suit, beach towel, suntan, sunglasses.
The highlight of your holidays starts here
All boats have a minimum of 8 guest capacity, WC, hot water, fully equipped kitchen, safety equipment, Radio CD player, Bimini top (tent over the cockpit), cockpit pillows, dinghy (small inflatable boat with engine). One cabin is at your disposal to store your stuff, change clothes, for the kids to rest, etc.
Why we sail at west Sithonia
It's an area that is very beautiful.
With a lot of secret coves inaccessible by a car that you can swim and enjoy alone, for guests that like privacy.
It has a few beach bars with a character that only the local Greeks know about for guests that like to party.
The winds are generally mild and boukadoura wind (sea breeze) comes from the south about 12:00 and it's just right for sailing. That is the main reason that we don't start the tour earlier as usually there is zero wind early in the morning.
If the Meltemi wind is a bit strong we can sail close to land and avoid a bumpy ride, or use it to sail better, faster.
send us and email to
Don't forget to mention:
Number of Persons
Possible Dates
Area
If you require a skipper (applies to multi-day charters only)
The hotel you 'll be staying (applies to day charters only)
Categorised in: Halkidiki yacht trip
This post was written by christoforos