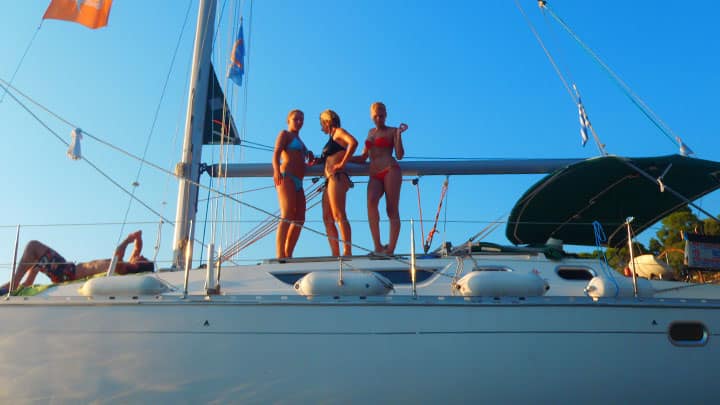 The best 2021 Halkidiki sailing PRIVATE day boat trips 7 or 4 hours [Video]
Halkidiki day sailing yacht charters cruise of Chalkidiki. Rent a sailboat for a day with a skipper for your 2021 summer holidays.
Sailing around the 'legs' of Halkidiki for a day can be a unique experience. We leave in the morning from Neos Marmaras port, or Porto Carras marina or Pefkochori pier at 11:00 for a sailing tour of Toroneos Gulf.
Halkidiki region sailing boat charter, the top of Halkidiki activities
This region, Chalkidiki is sailing heaven. In the summer of 2021 holiday season, every day, a sea breeze is forming from midday to sunset. Just strong enough for pleasurable sailing, exactly right for novice sailors to enjoy the amazing feeling of moving on the water with the wind. No motor, just you and nature. Halkidiki region is blessed with great beaches, and a pine forest coming down to the seaside. The weather is typical Geek summer hot weather. So a boat charter, a trip to Sithonia or Kassandra with a skipper on board one of our sailing boats, is a must if you are planning to spend your holidays in our area.
Thessaloniki day sailing trips
It sounds maybe too far 1:15 transfer time to get to Neos Marmaras from Thessaloniki, but it is really worth it. Even the drive through the beautiful pine forest on the way to one of the best experiences you ever had on the water is part of the full day you will be having if you choose this excursion. It is rated as one of best Halkidiki excursions on Tripadvisor
We can help you get a rental car or a transfer via our partners.
Halkidiki day sailing – Yacht charters starting point
Access to the embarkation point of Neos Marmaras, Sithonia, Halkidiki – Greece is easy from Gerakini, Psakoudia, Metamorphosis, Nikiti, Akti Elias, Lagomandra, Vourvourou, Ormos Panagias, Agios Nikolaos, Pyrgadikia, the 2nd leg of Halkidiki – Sithonia in general, where we start our sailing tours. From the 1st leg of Kassandra, we use Pefkochori(ex Kapsohora) pier for guests from N. Moudania, Nea Fokea, Athitos(Afitos), Sani, Kallithea, Kriopigi, Polychrono, Haniotis, Paliouri, Loutra Agias Paraskevis, Skioni, Possidi, Fourka, and Siviri boat charter
Itinerary of the Halkidiki day sailing from  Sithonia
Kelyfos also is known as Helona (means Turtle or черепаха) is our first stop. Swim the crystal clear waters or snorkel as the rocky bottom has a lot of life to observe. After that, the time for the usual sea breeze is up and we open sails for the south to Gerochristos island and Lemos beach. Here the sandbar that connects the peninsula with the mainland has the sea on both sides. The beach has been visited by famous movie star yachts. Used to be just ours, now everybody wants to visit Angelina Jolie beach. Next, it's time for our stop to a Taverna. You can enjoy your sandwiches on the yacht or order fresh fish at the Taverna.  After lunch, we tour the secret coves south of Neos Marmaras and stop for one last swim before returning to one of the most scenic beaches of Halkidiki, Kamenos. Here the green of the trees comes all the way to the clear waters.
The Itinerary may change because of the weather or if the guest like to do something else, for example, eat lunch on the way for more sailing time.

send us an email to
Sailing from Kassandra, Hrousos pier at Paliouri beach, Miraggio marina or Pefkochori (ex Kapsohora) pier for a private day trip
Go sailing to get away from the tourist crowds of Kassandra for a day. Charter one of our yachts. Enjoy the sun the sea and the breeze like never before.
send us an email to
Categorised in: Halkidiki yacht trip
This post was written by christoforos