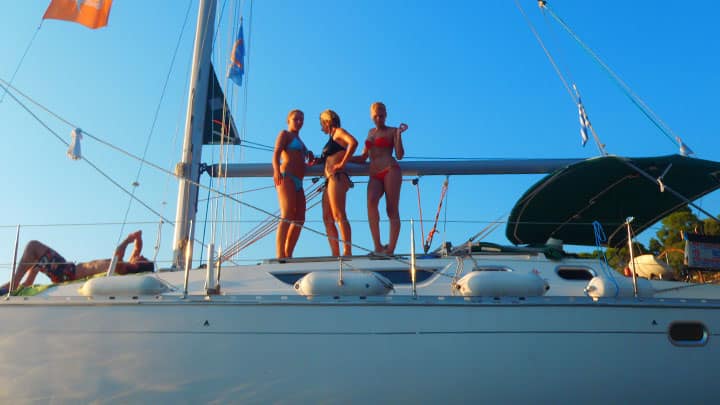 The best 2023 Halkidiki sailing PRIVATE day boat trips 7, 5 or 3 hours [Video]
Halkidiki boat hire – day sailing yacht charter cruise of Chalkidiki. Rent a sailboat for a day with a skipper for your 2023 summer holidays.
Sailing around the 'legs' of Halkidiki for a day can be a unique experience. We leave in the morning from Neos Marmaras port, Porto Carras marina, or Pefkochori pier at 11:00 for a sailing tour of Toroneos Gulf.
Halkidiki boat hire region sailing boat charter, the top of Halkidiki activities
This region, Chalkidiki is sailing heaven. In the summer of 2023 holiday season, every day, a sea breeze is forming from midday to sunset. Just strong enough for pleasurable sailing, exactly right for novice sailors to enjoy the amazing feeling of moving on the water with the wind. No motor, just you and nature. Halkidiki region is blessed with great beaches, and a pine forest coming down to the seaside. The weather is typical Geek summer hot weather. So a boat charter, a trip to Sithonia or Kassandra with a skipper on board one of our sailing boats, is a must if you are planning to spend your holidays in our area.
Thessaloniki day sailing trips
It sounds maybe too far 1:15 transfer time to get to Neos Marmaras from Thessaloniki, but it is really worth it. Even the drive through the beautiful pine forest on the way to one of the best experiences you ever had on the water is part of the full day you will be having if you choose this excursion. It is rated as one of the best Halkidiki excursions on Tripadvisor
We can help you get a rental car or a transfer via our partners.
Halkidiki day sailing – Yacht charter starting point
Access to the embarkation point of Neos Marmaras, Sithonia, Halkidiki – Greece is easy from Gerakini, Psakoudia, Metamorphosis, Nikiti, Akti Elias, Lagomandra, Vourvourou, Ormos Panagias, Agios Nikolaos, Pyrgadikia, the 2nd leg of Halkidiki – Sithonia in general, where we start our sailing tours. From the 1st leg of Kassandra, we use Pefkochori(ex Kapsohora) pier for guests from N. Moudania, Nea Fokea, Athitos(Afitos), Sani, Kallithea, Kriopigi, Polychrono, Haniotis, Paliouri, Loutra Agias Paraskevis, Skioni, Possidi, Fourka, and Siviri boat charter
Itinerary of the Halkidiki day sailing from  Sithonia
Kelyfos is also known as Helona (means Turtle or черепаха) is our first stop. Swim the crystal clear waters or snorkel as the rocky bottom has a lot of life to observe. After that, the time for the usual sea breeze is up and we open sails for the south to Gerochristos island and Lemos beach. Here the sandbar that connects the peninsula with the mainland has the sea on both sides. The beach has been visited by famous movie star yachts. Used to be just ours, but now everybody wants to visit Angelina Jolie beach. Next, it's time for our stop at a Taverna. You can enjoy your sandwiches on the yacht or order fresh fish at the Taverna.  After lunch, we tour the secret coves south of Neos Marmaras and stop for one last swim before returning to one of the most scenic beaches of Halkidiki, Kamenos. Here the green of the trees comes all the way to the clear waters.
The Itinerary may change because of the weather or if the guest likes to do something else, for example, eat lunch on the way for more sailing time.

send us an email to
Don't forget to mention:
Number of Persons, Possible Dates, Area
If you require a skipper (applies to multi-day charters only)
The hotel you 'll be staying (applies to day charters only)
About fishing on your Halkidiki boat hire day trip
We exclusively do trawl fishing on our day trips, sustainable practice with little impact on the fish populations.
Read more information about it in this guide…>
Sailing from Kassandra, Hrousos pier at Paliouri beach, Miraggio marina or Pefkochori (ex Kapsohora) pier for a private day trip
Go sailing to get away from the tourist crowds of Kassandra for a day. Charter one of our yachts. Enjoy the sun the sea and the breeze like never before.
send us an email to
Don't forget to mention:
Number of Persons, Possible Dates, Area
If you require a skipper (applies to multi-day charters only)
The hotel you 'll be staying (applies to day charters only)
 Starting point
From Sani, Fokea, Potidea, Nea Moudania, Kalyves, Afytos, Kalithea, Kassandria, Siviri, Posidi, Siviri, Paliouri, Miraggio, Hrousos, Hanioti, Polychrono, Kryopigi, the 1st leg of Kassandra in general, we use Hrousos pier at Paliouri beach, Miraggio marina or Pefkochori (ex Kapsohora) pier for pickup.
Itinerary of the Halkidiki day sailing from Kassandra.
We pick you up from Hrousos pier at Paliouri beach or Pefkochori (ex Kapsohora) pier at 11:00 in the morning.
We visit the spalathronisia area, laimos beach, and the Gerochristou island peninsula, The water is warm and crystal clear. Away from the tourist crowds.
Then we stop at Neos Marmaras to visit or have lunch at "Ta Kymata" taverna restaurant for fresh fish or whatever local delicacy you would like to try (the best in Halkidiki).
Then last stop at Kelyfos island before returning back at 19:00.
This package of private sailing days is ideal for birthdays, anniversaries and any kind of party you can think of.
Surprise your loved one or friend
Let us know to take care of the cake, champagne, wine or any other surprise you like.
The only things that you really need are a hat, swimsuit, beach towel, suntan, and sunglasses.
The highlight of your holidays starts here – charter a luxury sailing yacht.
All boats have a minimum of 8 guest capacity, WC, hot water, fully equipped kitchen, safety equipment, Radio CD player, Bimini top (tent over the cockpit), cockpit pillows/ One cabin is at your disposal to store your stuff, change clothes, for the kids to rest, etc.
Halkidiki activities: What about fishing during our day trip?
Our Jeanneau 11m is very well equipped for fishing with equipment for both, light trawling for Palamida ( a mackerel type of fish) as well as tuna game fishing in Halkidiki. Some of the other yachts are also equipped for light trawling fishing. We only do this type of fishing as it's the best way to actually catch something big enough to have fun in the middle of the day. All other types of fishing require you to start the trip way too early before the sun rises, and normally most people don't want to do this on their holidays.
Why we sail at west Sithonia trip
It's an area that is very beautiful.
With a lot of secret coves inaccessible by a car that you can swim and enjoy alone, for guests that like privacy.
It has a few beach bars with a character that only the local Greeks know about for guests that like to party.
The winds are generally mild and boukadoura wind (sea breeze) comes from the south at about 12:00 and it's just right for sailing. That is the main reason that we don't start the tour earlier as usually there is zero wind early in the morning.
If the Meltemi wind is a bit strong we can sail close to land and avoid a bumpy ride, or use it to sail better, and faster.
This is why we choose Neos Marmaras, Sithonia, and Halkidiki – Greece for our base. This also gives us the opportunity to pick people up from the Kassandra peninsula and take them away from the crowded beaches to some of the most beautiful Sithonia areas.
Motor yacht Halkidiki boat hire trips
We can also offer motor yacht trips, please check our "Halkidiki 2023 VIP motor yacht day trip" page for more information.
Half-day sailing trips in Kassandra or trip Sithonia, Halkidiki region

We
do not recommend Private half-day
or less than 5 hours trips as we feel we would be cheating our guests. Simply there is not enough time to see the best places in the area (which, unlike Fokies and Afytos, has a lot more to see than cliffs). Not to mention that you are chartering a yacht to relax, not run from beach to beach because there is not enough time. The price difference is not that big, to begin with.
What about Mount Athos, can we include a tour of it in our itinerary?
Unfortunately, Mount Athos is just too far away from our base to include a tour of it in our route. Actually, there is no place in Halkidiki where we could start that would make a tour of Mt Athos a good idea for a sailboat route. At the closes places like Skala Sykias you need about 2h to go and 2:30h to come back, plus at least 2h tour. this means that for more than 6:30h the boat will be sailing (or early in the morning probably motoring) without the possibility to stop for swimming. So our guests would spend most of the day out in the sun, no swimming, no stop to relax and lunch. Been there, done that, and nobody was happy. Keep in mind that you see the monasteries at a distance of at least 500m (it is prohibited to go closer to land and regularly enforced). The monasteries are fantastic, but it's like looking at the Parthenon from the nearest hill, not the same as actually being in it. So we recommend getting one of the big boats from Ormos Panagias and spending a morning seeing Mt. Athos. And another day relaxing on the water with us.
send us an email to
Don't forget to mention:
Number of Persons, Possible Dates, Area
If you require a skipper (applies to multi-day charters only)
The hotel you 'll be staying (applies to day charters only)

Check out our Tripadvisor reviews: just type "CharterAyacht, Neos Marmaras" in their site or mobile app search to see our 5* reviews.
Tags: Halkidiki sailing


Categorised in: Halkidiki yacht trip

This post was written by christoforos