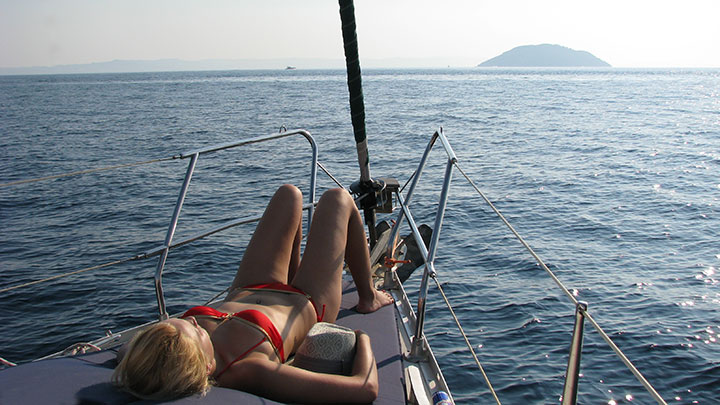 Halkidiki sailing
Sometimes written as Chalkidiki or Chalcidice, any way you write it is a paradise for yachting and Halkidiki sailing
In Central Macedonia South region, cut out from the mainland is Halkidiki, Greece. It is Greece's secret paradise. Shaped as three legs has the Climate of Northern Aegean Islands with hot summers and mild winters. Kassandra, Sithonia, and Holy Mount Athos are the three peninsulas. Regarding tourism, Kassandra is the most well developed with many hotels, marinas, yachting and chartering. Sithonia still has a lot of perfect places to visit especially from the sea.
We provide bareboat, skippered and crewed yacht charters. Make reservations early and get the best rates.
Yacht Charters in Halkidiki
If you are planning on sailing in Greece, you should seriously consider renting a yacht in Halkidiki.The weather is perfect for sailing, crystal clear waters and scenic landscape of green pine and olive trees. The beaches are probably the best in the world, with 40 of them having the European  Blue Flags. Beaches range from golden to white sand.
With a yacht charter, you are more flexible in your exploration of Halkidiki. Discover and swim secluded bays, coves and beaches. Sail close to Athos and snap some pictures of the ancient monasteries. Halkidiki is a paradise for yacht charters especially for sailing yachts but also luxury motor yachts and is a great opportunity for you to enjoy a place away from the crowded popular yachting destinations.
You can rent a Sailing yacht and start your holidays around Halkidiki from our base in Neos Marmaras, Porto Carras, Miraggio or Sani Marina.
Private Yachting Excursions in Halkidiki, Greece
We offer a variety of day sailing Halkidiki boat trips, private charters only. You can go sailing to Kelyfos Island and discover the secluded Porto Caras coves, or do the Fishing excursion for light trawling or tuna game fishing. Do your Bachelorette party in Kassandra or Sithonia, Halkidiki or Have a family sailing day out to activate the kids interest for the sea and its wonders.
All yachts can be equipped with snacks, fresh fruits, an open bar with beverages and drinks depending on the package you select. You can have a great lunch at a traditional fishing port, just ask the skipper to take you in a sea tavern for fresh fish.
Either way, day cruises are the best idea to visit places in Halkidiki that can not be approached by car, avoid crowded beaches and discover your remote places along with your friends, family or colleagues, and spend a day you will never forget.
Day sailing Halkidiki
Game fishing day trip
Day cruise Halkidiki on motor yacht
Mount Athos Private cruise on motor yacht
Halkidiki sailing boat Holiday charters
Halkidiki is perfect for yachting
Halkidiki is ideal for sail or motor yacht holidays because:
the winds are mild
has a lot of natural ports where you can spend the night
offers a variety entertainment both intense and relaxing
open sea game fishing, diving
coasts inaccessible by land with pine tree forests touching the sea
many traditional villages and historical sites to visit
can have both family and group of friends holidays
safe sailing routes for small children and people with disabilities
Located in northern Greece near the city of Thessaloniki a large peninsula between two bays, Thermaikos and Strymonikos, extends three lower peninsulas: Kassandra to the west, Sithonia in the middle, between Toroneos and Siggitikos Bay and Mount Athos to the east. The three "legs" of Halkidiki as they are also called, have the longest coastline (550 thousand) of all land prefectures of Greece. It is a place where clear blue waters meet with the green area. Here the magnificent rock-rotation arms, coastline, sand pine Bay mountain, shock the viewer and encourage them to stay to enjoy the crystal clear sea and revitalise in the wonderful shades of pine forests. There is no better way to see what Halkidiki is all about unless you travel by a boat. There are organised private marinas in both "legs" as well as small fishing ports in almost every village by the coasts.
Kassandra
The peninsula of Kassandra is the most famous area of Halkidiki. It is considered one of the best holiday destinations in Northern Greece, as it has been highly touristic development.
If you want nightlife, Cassandra is the place. Many of the settlements of the peninsula have a large range of restaurants, pubs, cafes, bars and clubs to satisfy all tastes.
The villages in Kassandra are traditional. The land is characterised by thick vegetation and traditional houses. Kassandra is even more famous for its stunning beaches, many of which have green trees, golden sand and blue waters. Forests and hills of Cassandra, are Ideal for exploring and hiking. Sightseeing in the region gives visitors the opportunity to admire the historical monuments dating from ancient times. Some of the most famous villages of Kassandra are: Afytos, Hanioti, Fourka, Kallithea, Kryopigi, Pefkohori, Polihrono, Posidi and Sani. All of them have the unique beauty, amazing beaches, great nightlife and several culture events such as concerts during summer time. Especially in Sani hotel where every summer, Sani Festival takes place, visitors from all around gather. There is also Sani Marina where you can anchor your yacht and enjoy your holidays.
Sithonia
Sithonia is the second peninsula of Halkidiki. The spectacular landscape of the middle leg excites nature lovers and tourists seeking relaxation and adventure. The coast is very diverse – a combination of fishermen's villages, picturesque small harbours, deserted beaches surrounded by trees. In every turn, you will find beautiful beaches with crystal waters, small secluded coves with unique rock formations and pine forests. You can visit traditional villages and some impressive historical sites that reveal the historical importance of the region over the centuries. Some of the most famous places in Sithonia are: Agios Nikolaos, Kalamitsi, Nikiti, Sarti, Vourvourou, Porto Koufo, Neos Marmaras and much more. Near Neos Marmaras is Porto Carras hotel with a colossal and organised private marina, and other facilities where you can safely anchor and enjoy the scenery. On the northeast coast of Sithonia, beaches are beautiful. In Vourvourou you will find beaches with clear green waters and coves that look like pools.
send us and email to
Don't forget to mention:
Number of Persons
Possible Dates
Area
If you require a skipper (applies to multi-day charters only)
The hotel you 'll be staying (applies to day charters only)
Categorised in: Halkidiki yacht trip
This post was written by christoforos