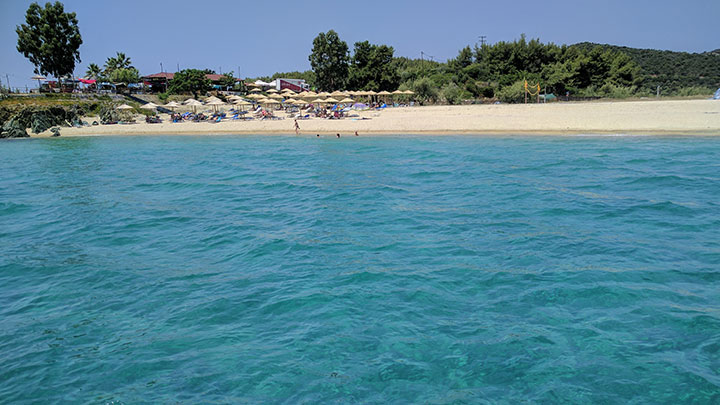 7 days sailing holidays to Halkidiki 2023 packages review
Seven days Sailing holidays to Halkidiki. It's the vacation of a lifetime in yachtsman's secret heaven. Review our packages for 2023 below.
Halkidiki as you probably know (or finding out into our site) is not only a fantastic destination for tourists but also well-hidden yachting heaven. You can either visit the cosmopolitan east shore of the "Cassandra" peninsula or enjoy unspoilt by tourism west "Sithonia". Or make it a mixed program so you will have the best of both. Sailing holidays to Halkidiki with a skipper is one of the best options for people without any experience on sailing.
Is Halkidiki a good place to go on holiday?
In one word, yes! And here are some of the reasons:
Very beautiful. Even the Greeks think its a great vacation spot, it is just that international tourist hasn't been informed, yet. There are places that are like the tropics, without the jetlag
The food is great. Fresh fish, local, traditional meze to go with the ouzo or tsipouro. Traditional Greek food at its best. You will find it difficult to return to your normal diet when back home.
It safe. Very safe! And the people will give you directions and go out of their way to help you get to your destination.
History. Ancient history! Aristotle was born in Halkidiki. Plenty of archaeological places to visit. And Petralona cave was one of the oldest human skeletons in Europe was found.
Halkidiki nightlife. You can do quiet or go clubbing all night. Seriously most clubs stop in the morning and not only on weekends.
Products. Honey, Wine, Herbs and Spices, Olive Oil, Olives, Cheese, Soap, and more.
And you can do all that and go sailing away from the crowds at the beach. Or drop the anchor in front of the beach bar and start your beach bar hopping campaign Halkidiki holidays style.
The natural backdrops are stunning!
Our base at Neos Marmaras is placed at exactly the correct spot so we can give you the best options.
This year you have at least seven days for holidays. Great! Let us take care of you. Do the Halkidiki holidays sailing package. Best Halkidiki holidays package, ever!
Your Halkidiki holidays will start with meeting our transport crew at "Macedonia" Airport of Thessaloniki (SKG). It's about 1:30 min drive to our base at Neos Marmaras and the road goes through the Mediterranean forest near the sea. It's a beautiful start of your vacation with us. Coming to Neos Marmaras your skipper will take care of you, show you the yacht, basic safety rules and take you to the supermarket for provisioning. And then we go!
7 Days best Holidays Sailing Halkidiki for 2023 route plan.
Once you finish provisioning we will take you to a nearby heavenly beach to relax after a long day flying and travelling. Its "Kamenos" beach one of Porto Carras secret coves, practically inaccessible by boat. Then in the evening, you return to Neos Marmaras for your wine and cheese tasting experience before dinner.
Next day we visit Akti Elias, Kalogria Beach, Agios Ioannis beach, do some sailing snorkelling, and spend the night at Nikiti marina. Nikiti waterfront walkway is always lively in the evening.
Next, we explore the beach to Metamorphosis, passing from Danae villas resort Vatopedi, Psakoydia, Potidaia and stop for the night under the Byzantine tower at Nea Fokea.
It's time for good sailing while we explore the east of Cassandra peninsula passing from Afyto, Kalithea, Kryopigi, Polychrono, Haniotis. A taverna and shopping stop at Pefkohori is a must and then stop at Glarokavos Golden Beach, and finally Hrousos Paliouri beach, before spending the night at the brand new Miraggio five star resort at Kanistro.
Sail to the South most tip of Sithonia, the secluded inaccessible beach of Marathias and around to the east side with stops at Kalamitsi, and finally spend the night at Sykia fishing village. Fresh fish at the taverna is a menu option here.
Return to the west side after stops at Klimataria beach, at the unbelievable Kriaritsi (now this is a place directly from the tropics that you can really appreciate only on a boat) and finally stop at the Porto Koufo fishing village famous for the fish tavernas.
Explore west Sithonia, start with a swim under ancient Toroni citadel, Tristinika and the Ethnic beach bar, Aretes beach, Spalathronisia islands, my favourite beach at Agia Kyriaki and spend the night at a small cove.
The next morning return to Marmaras by 10:00.
About fishing on your holidays to Halkidiki
We exclusively do trawl fishing on our day trips, sustainable practice with little impact on the fish populations.
Read more information about it in this guide…>
Here is the map of the seven days Halkidiki sailing itinerary.
As a matter of fact, the route may change. It depends on the group. Our skippers are very experienced and can very quickly get a feeling of people's wave movement tolerance. So depending on what you like (cosmopolitan and beach bar partying or Halkidiki's best secluded beaches) he will make recommendations.
Have a look to our four days Halkidiki holidays sailing packages if you have more days to relax.
For more information, you can have a look at our pages about 2023 Halkidiki sailing holiday packages
Categorised in: Halkidiki holidays
This post was written by christoforos