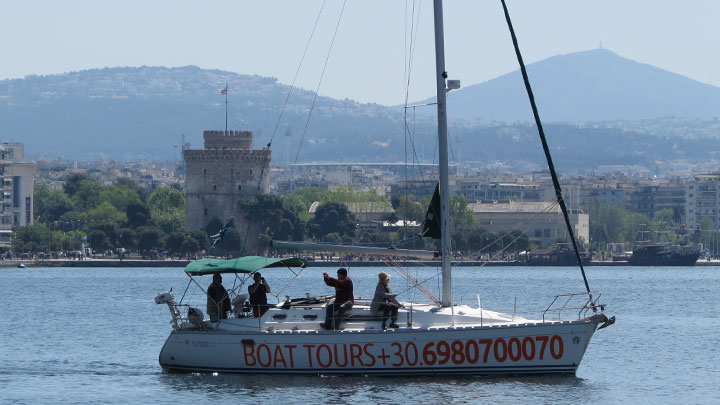 Best of Thessaloniki 2020 tour, port waterline sailboat
Thessaloniki is a city connected with the sea. It has always been since founded, a major port. Most of the city monuments like its trademark White Tower are linked with the sea. Thessaloniki port & waterfront sailboat tour
The best way to tour Thessaloniki
So one of the best ways to get the feeling of the city is to make a waterline and port tour from the sea with our sailing yacht. The Skipper is a local with intimate knowledge of the city and its history.
We start from Kalamaria Marina at the east of the city (easily accessible by public transportation bus) at 11:00 and we make a big circle around the city waterline while sailing to come back at 13:00.
Itinerary
From 11:00 to 13:00 for a day trip that will take you from Kalamaria marina to
Thessaloniki Sailing yacht club
Thessaloniki Concert Hall,
Sailing club of Thessaloniki
New waterfront
White tower
Old town waterfront
Aristotelous Square
External old port area
and many more seaside monuments and landmarks of Thessaloniki
and sail back to Kalamaria marina for the return.
Day sailing tour of Thessaloniki waterline 2019 and port, what's included
Included in the price are Skipper, fuel, VAT, coffee, tea, drinking water.
Not included are food or drinks, you may bring your snacks and drinks onboard.
send us an email to
Don't forget to mention:
Number of Persons, Possible Dates, Area
If you require a skipper (applies to multi-day charters only)
The hotel you 'll be staying (applies to day charters only)

Check out our Tripadvisor reviews: just type "CharterAyacht, Neos Marmaras" in their site or mobile app search to see our 5* reviews.
Categorised in: Salonica
This post was written by christoforos