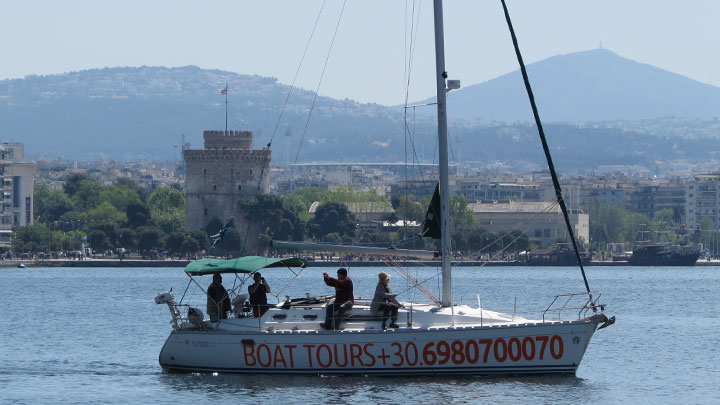 Thessaloniki center waterfront and the harbor sailing 2 hour tour
Thessaloniki is a city connected with the sea. It has always been since founded, a major port. Most of the city monuments like its trademark White Tower are linked with the sea. Thessaloniki waterfront sailboat tour of the port.
The best way to tour Thessaloniki centre waterfront sailboat
So one of the best ways to get the feeling of the city is to make a waterline and port tour from the sea with our sailing yacht. The Skipper is a local with intimate knowledge of the city and its history.
We start from Kalamaria Marina at the east of the city (easily accessible by public transportation bus) at 11:00 and we make a big circle around the city waterline while sailing to come back at 13:00.
Europride 2020
Thessaloniki Europride 2020 dates: from June 20 to June 28 2020. During the 10 days festivities, we will be doing four 2h private trips every day starting at 10:00, 13:00, 16:00, 19:00. The last one will be a sunset party. A lot of activities are being planned for Euro pride 2020 parade.
Check out more on the Official web site of the 2020 Europride, Thessaloniki and the EPOA web site
"Welcome to the future where everyone can join!"
We only hope to add to this great event with our yachts and experience at hosting memorable sailing excursions. We do hope to add the seafront to the party!

Day sailing tour of Thessaloniki waterline and port, what's included
Included in the price are Skipper, fuel, VAT, coffee, tea, tab water.
Not included are food or drinks, you may bring your snacks and drinks onboard.
We have made an effort to keep the prices affordable by taking out anything that used to add to the price (as snacks)
Kids age up to 14 years old.
Prices include VAT and local taxes
Price includes transportation from and to partner hotels
Prices may change without notice
Itinerary may change due to weather, season, or other. restrictions
Any days tour may be cancelled due to weather, or if a minimum number of guests is not met, up to 2 days before its date. The guest then have the option of full refund or reschedule to a different date
Children must be accompanied by an adult
Minimum alcohol drinking age is 18 years
Not recommended for participants with back problems
Not recommended for participants with heart complaints or other serious medical conditions
Not recommended for pregnant women
Due to uneven surfaces, this tour is not recommended for those with walking disabilities or using a wheelchair
Passport name, number, expiry, home address and country is required at time of booking for all participants
Operates in most weather conditions, please dress appropriately
Please inform the skipper if you are not an adequate swimmer.
Essentials: sun glasses, hat, lunch box with plenty of fluids.
send us an email to
Don't forget to mention:
Number of Persons, Possible Dates, Area
If you require a skipper (applies to multi-day charters only)
The hotel you 'll be staying (applies to day charters only)

Check out our Tripadvisor reviews: just type "CharterAyacht, Neos Marmaras" in their site or mobile app search to see our 5* reviews.
Categorised in: Thessaloniki
This post was written by christoforos