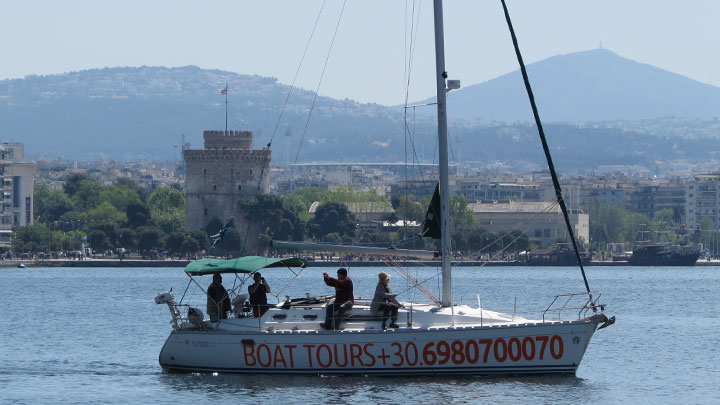 Il meglio di Salonicco2023giro turistico, porto e lungomare, barca a vela
Salonicco è una città collegata al mare. Da sempre da quando  è stato fondata e' un porto importante. La maggior parte dei monumenti della città come il suo marchio White Tower/La Torre Bianca sono collegati al mare. Porto di Salonicco e tour in barca a vela sul lungomare,
Il modo migliore per visitare Salonicco
Quindi uno dei modi migliori per avere la sensazione della città è quello di fare una linea del lungomare e un tour del porto dal mare con il nostro yacht a vela. Lo Skipper è un locale con una profonda conoscenza della città e della sua storia.
Partiamo da Kalamaria Marina ad est della città (facilmente raggiungibile con l'autobus dei mezzi pubblici) alle 11:00 e facciamo un grande giro attorno alla linea di galleggiamento della città mentre salpiamo per tornare alle 13:00.
Itinerario
Dalle 11:00 alle 13:00 per una gita giornaliera ti prenderemmo da Kalamaria marina a
Salonicco Yacht club a vela
Sala concerti di Salonicco,
Circolo velico di Salonicco
Nuovo lungomare
Torre bianca
Lungomare della città vecchia
Piazza Aristotele
Area portuale vecchia esterna
e molti altri monumenti marittimi e monumenti di Salonicco
e ritorno al porto turistico di Kalamaria marina
Gita in barca giornaliera alla linea ddel lungomare 2023 e del porto, cosa sia incluso
Incluso nel prezzo sono Skipper, carburante, IVA, caffè, tè, acqua potabile.
Non sono inclusi cibi o bevande, è possibile portare a bordo snack e bevande.
send us an email to
Don't forget to mention:
Number of Persons, Possible Dates, Area
If you require a skipper (applies to multi-day charters only)
The hotel you 'll be staying (applies to day charters only)

Check out our Tripadvisor reviews: just type "CharterAyacht, Neos Marmaras" in their site or mobile app search to see our 5* reviews.
Categoria: Salonicco
Questo articolo è stato scritto da christoforos