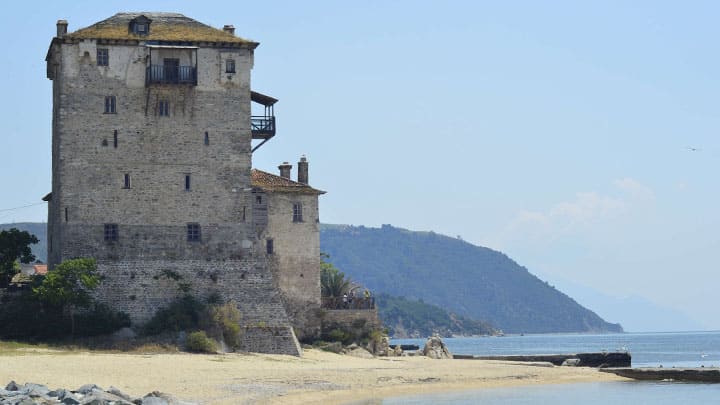 La migliore crociera privata a motore del Monte Athos 2023, visitando i16 monasteri.
Monte Athos PRIVATO 2023 tour in yacht a motore e Monasteri Sacri
 Tour privato in yacht a motore del Monte Athos.
Scopri la pace e la bellezza unica del Monte Athos noleggiando uno yacht a motore per una crociera di un giorno. Partendo la mattina presto dal porto di Neos Marmaras o dal porto turistico di Porto Carras Grand Resort, ti dirigerai verso la terza 'gamba' della penisola Calcidica, Agio Oros. Dal momento che le donne non sono autorizzate, il modo migliore per vedere gli splendidi monasteri e l'incredibile natura è solo dal mare. Navigherai molto vicino alla riva in modo da poter vedere tutti i monasteri molto chiari e fare un giro turistico. Dopo aver goduto la tua crociera, facciamo una sosta al bellissimo villaggio di pescatori di Toroni Porto Koufo per il pranzo. Durante la nostra crociera di ritorno a Neos Marmaras, puoi rilassarti e goderti la sosta per una nuotata e ammirare lo splendido tramonto. Tour privato in yacht a motore del Monte Athos
Punto di Partenza.
L'accesso al punto di imbarco di Ormos Panagias è facile da Gerakini, Psakoudia, Metamorphosis, Nikiti, Elia, Toroni, Sarti, Sykia, Vourvourou, Armenistis, Neos Marmaras, Agio Nikolaos, 2a gamba di Calcidica – Sithonia, dove iniziamo i nostri tour in yacht a motore . Dalla 1a gamba di Kassandra, utilizziamo il molo di Miraggio o il molo di Pefkochori (ex Kapsohora) per gli ospiti da N. Moudania, Nea Fokea, Athitos (Afitos), Sani, Kallithea, Kriopigi, Polychrono, Haniotis, Paliouri, Loutra Agias Paraskevis, Skioni , Possidi, Fourka e Siviri. Dalla terza gamba, Ierissos, Eagles, Nea Roda, partiamo da Ouranoupolis.
Durante la crociera potrai vedere da 500 m di distanza:
Agias Annis Skiti
Nea Skiti
Santo Monastero di Aghiou Pavlou
Santo Monastero di Dionysiou o 'Nea Petra'
Santo Monastero di Gregoriou
Santo Monastero di Simonopetra
Porto di Dafne
Santo Monastero di Xeropotamou
Santo Monastero di Panteleimon o Rossikon (Russo)
Xenofontos Skiti
Santo Monastero di Xenofontos
Santo Monastero di Docheiariou
Arsanas (porto di) Santo Monastero di Zographou
Arsanas (porto di) Santo Monastero di Chilandariou
Il miglior giorno della tua vita inizia qui!
Cosa è incluso
Tutte le barche hanno una capacità minima di 8 persone, WC, acqua calda, cucina completamente attrezzata, dotazioni di sicurezza, radio lettore CD, tenda sopra la cabina di pilotaggio, cuscini del pozzetto,un canotto  (gommone con motore). Una cabina è a tua disposizione per conservare le tue cose, cambiare vestiti, far riposare i bambini, ecc
Incluso:
I.V.A.
Tasse della barca, skipper professionista, tasse della marina
Acqua, Elettricita'.
Acqua potabile, bevande analcooliche , snacks, caffe' o te'
Non incluso:
Carburante, benzina (se non specificato nella nostra offerta)
pranzo e cena
asciugamani da spiaggia
Mappa del Monte Athos – 2023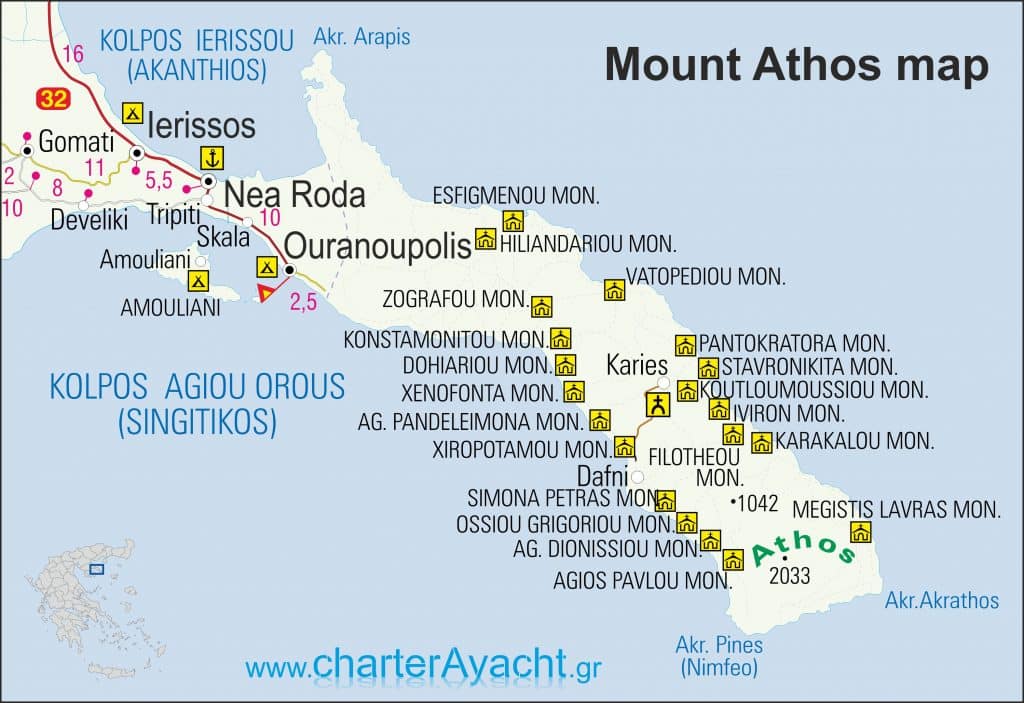 send us an email to
Don't forget to mention:
Number of Persons, Possible Dates, Area
If you require a skipper (applies to multi-day charters only)
The hotel you 'll be staying (applies to day charters only)

Check out our Tripadvisor reviews: just type "CharterAyacht, Neos Marmaras" in their site or mobile app search to see our 5* reviews.
Categoria: Calcidica gite giornaliere a vela
Questo articolo è stato scritto da christoforos