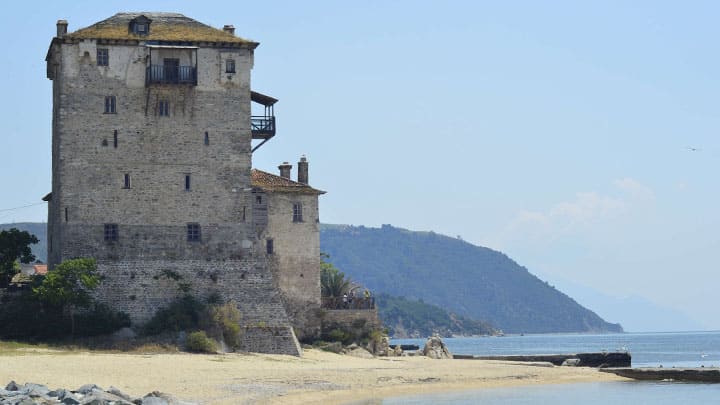 Mount Athos best private motor yacht cruise in 2023, visit 16 monasteries
Mount Athos PRIVATE 2023 motor Yacht tour & Holy Monasteries
Discover the unique peace and beauty of Mount Athos by chartering a motor yacht for a day cruise. Leaving early in the morning from the Neos Marmaras port or Porto Carras Grand Resort Marina, you will set course towards the third 'leg' of Halkidiki Peninsula, Agio Oros. Since there are no women allowed on land, the best way to see the stunning monasteries and the amazing nature is only by the sea. You will cruise very close to the shore so you will be able to see all the monasteries very clear and do some sightseeing. After enjoying your cruise, we make a stop at Toroni Porto Koufo beautiful fishing village for launch. On our return cruise back to Neos Marmaras, you can sit back and enjoy the journey stop for a swim and watch the beautiful sunset. Mount Athos private motor yacht tour.
Starting point
Access to the embarkation point of  Ormos Panagias is easy from Gerakini, Psakoudia, Metamorphosis, Nikiti, Elia, Toroni, Sarti, Sykia, Vourvourou, Armenistis, Neos Marmaras, Agio Nikolaos, 2nd leg of Halkidiki – Sithonia, where we start our motor yachting tours.  From the 1st leg of Kassandra, we use Hrousos pier at Paliouri beach, Miraggio marina or Pefkochori (ex Kapsohora) pier for guests from N. Moudania, Nea Fokea, Athitos(Afitos), Sani, Kallithea, Kriopigi, Polychrono, Haniotis, Paliouri, Loutra Agias Paraskevis, Skioni, Possidi, Fourka and Siviri. From the 3rd leg, Ierissos, Eagles, Nea Roda, we start from Ouranoupolis.
During the cruise you will be able to see from 500m away:
Agias Annis Skiti
Nea Skiti
Holy Monastery of Aghiou Pavlou
Holy Monastery of Dionysiou or 'Nea Petra'
Holy Monastery of Gregoriou
Holy Monastery of Simonopetra
Dafne port
Holy Monastery of Xeropotamou
Holy Monastery of Panteleimon or Rossikon (Russian)
Xenofontos Skiti
Holy Monastery of Xenofontos
Holy Monastery of Docheiariou
Arsanas (port of) Holy Monastery Zographou
Arsanas (port of) Holy Monastery of Chilandariou
The best day of your life starts here!
What's included
All boats have a minimum of 8 guests capacity, WC, hot water, fully equipped kitchen, safety equipment, Radio CD player, Bimini top (tent over the cockpit), cockpit pillows, dinghy (small inflatable boat with engine). One cabin is at your disposal to store your stuff, change clothes, for the kids to rest, etc
Included:
VAT.
Boat fees, Professional skipper, marina fees.
Water, Electricity.
Drinking water, soft drinks, snacks, coffee or tea
Not included:
Fuel, Petrol (unless specified in our offer)
lunch & dinner
beach towels
Mount Athos Map – 2023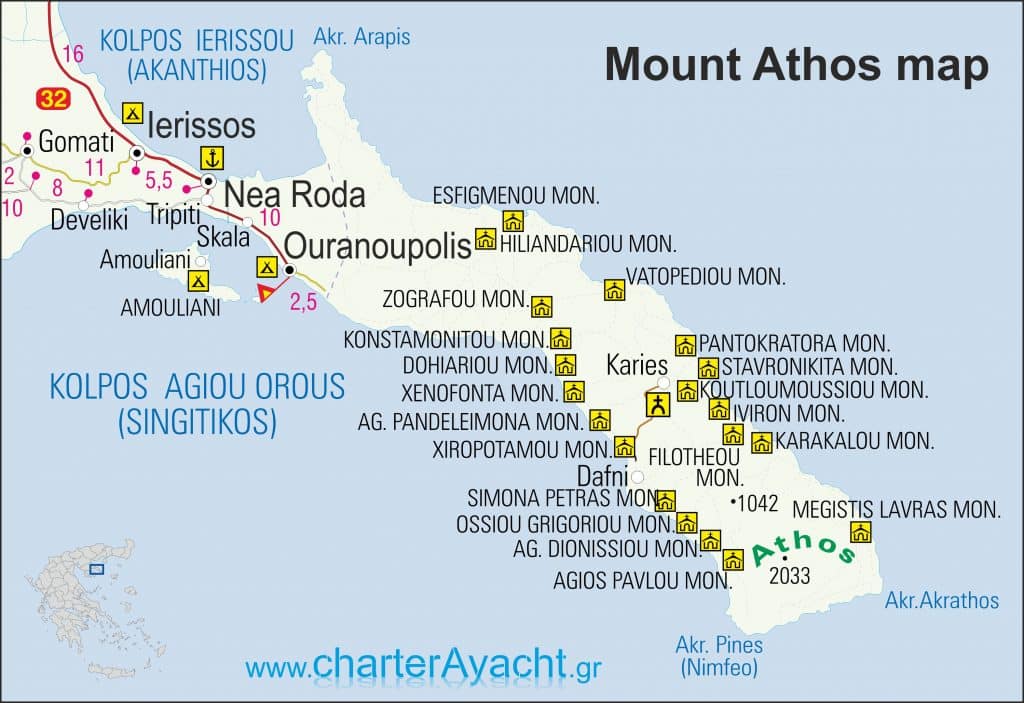 send us an email to
Don't forget to mention:
Number of Persons, Possible Dates, Area
If you require a skipper (applies to multi-day charters only)
The hotel you 'll be staying (applies to day charters only)

Check out our Tripadvisor reviews: just type "CharterAyacht, Neos Marmaras" in their site or mobile app search to see our 5* reviews.
Categorised in: Halkidiki yacht trip
This post was written by christoforos