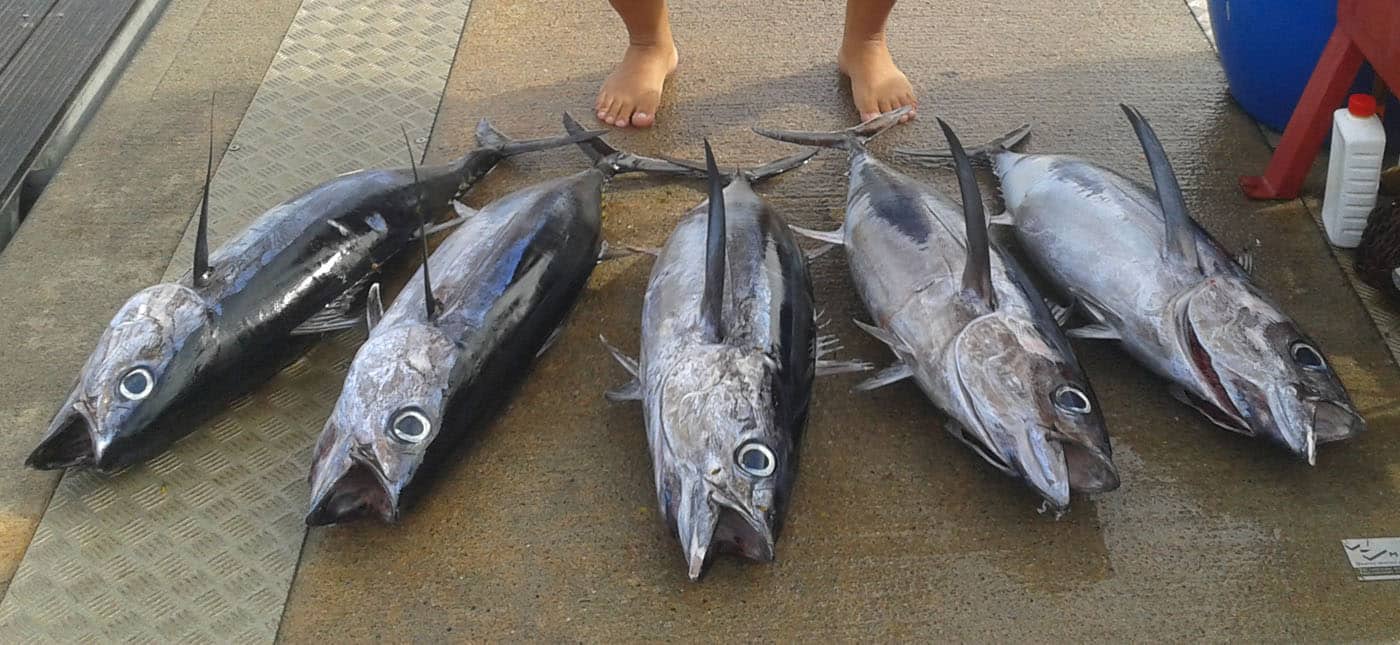 2023 Fishing in Halkidiki, Sithonia or Kassandra
Some explanations about the kind of fishing we do during our day trips at charterAyacht
Fishing at Sithonia or Kassandra, Halkidiki Greece, during your holidays.
Take a fishing charter and enjoy fresh fish at Sithonia or Kassandra, Halkidiki Greece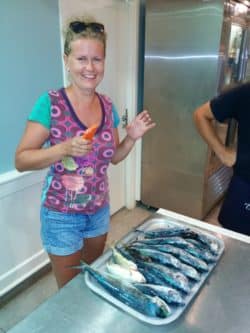 Halkidiki fish are famously very tasty. My commercial fisherman friends tell me that the combination of pretty deep coastal waters, pretty interesting underwater formations making deep reefs, and the proximity to the mountain as a source of sweetwater from rains, make the crystal clear waters a perfect place for fattening naturally the fish. So even the humble sardines they fish in Toroneos gulf, between Kassandra and Sithonia peninsular, are tastier than the sardines a few miles offshore or in Thermaikos Gulf.
Many people enjoy fishing. That is why we choose to offer it.
The thing is that in order to do the kind of fishing technique of bait casting that most people know as fishing, you need to wake very early in the morning, at 04:00 or 05:00 come to our boats and sail for about 1 hour so you are over a fishing spot, a reef before the sunrise. That is the time when it's almost still dark that you can catch normal adult fish of some size with bait.
Of course, it's very difficult to wake up so early in your holidays, we understand.
Sport Fishing in Halkidiki sustainability concerns
If we do bait casting during our normal trip, during the day, we will only catch baby fish or inedible bottom feeders, in essence to small-scale environmental destruction. And if everyone for fun kills baby fish this could be a problem. We choose to protect the environment of our seas and our country. And no, "just for the kids to play" is not ok to kill fish we will not eat afterward. It's a pity to kill a small grouper of a few grams (that can grow to be more than 15kg fish) just to play.
However, we do trawl fishing which gives us the opportunity to catch mature palamida 1-4kg (Atlantic bonito) or karvouni  1-10kg (Little Tunny) using this method all day. Sometimes we can also catch a bigger 6-20Kg Albacore Tuna and the best times to catch them are around midday and at sunset. Time of the day that is easier to sail in your holidays.
In trawling fishing, we trawl fake lures behind the boat about 15-25m, that look like small squid or bait fish. All surface hunter fish love them and attack them. When a fish is caught we stop the boat and fight it and bring it onboard.
We have special equipment on board and special rods made for this kind of light trawling fishing.
Sometimes we catch nice swordfish or Mediterranean marlin.
As you can understand you can make a trip with the whole family, go for some swimming and do trawl fishing while going between beaches and coves.
So for those reasons, we only offer to trawl fishing on our boats!
send us an email to
Don't forget to mention:
Number of Persons, Possible Dates, Area
If you require a skipper (applies to multi-day charters only)
The hotel you 'll be staying (applies to day charters only)
Light trawl Fishing in Halkidiki target fish species
Here is a great article that clears things up about the most common tuna species and similar species. Bonito vs Skipjack Tuna vs Little Tunny: What's the Difference?
Season and weather issues for fishing in Halkidiki.
Of course like all fish, the species that we are targeting go crazy and eat anything they can find just before the rain.
But after a storm, especially noisy thunderstorms, they go for deeper waters and it may take up to 3 days for things to return to normal. Also, debris carried by water from land after rain makes it difficult to fish as the lures keep catching weeds and leaves, and unfortunately, the fish we are trying to catch are not vegetarians. So we need to clean our lures all the time to the point that sometimes it's impossible to fish.
Also during July and the beginning of August, the top surface water is too hot for fish so practically there is no fishing. But the rest of the year it's very good.
About Tuna game fishing (professional) catch and release
The other kind of Fishing in Halkidiki that we do is tuna game fishing. Big Tuna schools come to the open Aegean sea close to Halkidiki after the water temperature drops in late September and stay in the area until the middle of November, feeding on the surface.
We love to go out and hunt them. The program is to catch make photos and release unless the fish is hurt and will not survive. In that case, as it's required by law the fish is donated to the homeless children's foundation and other charities.
Tuna pro game fishing is a whole day experience as we need about 3 hours sailing to get to the hunting area, south of Kassandra or Sithonia. our pro local fishermen are always on the lookout for us, they are like a local secret service for fish, and they keep us up to date on sightings, so we usually know where the fish is and what it is they are feeding on. We start as early in the morning as possible 06:00 or 07:00 in the morning and return around 16:00. In the program a good breakfast, snacks, wine fruits, etc is included so nobody gets hungry.
The season starts after September 15, after the first few cold Autumn showers of rain cool down the waters. We can go fishing on up to 3 Beaufort of wind. Anything more is too uncomfortable and practically the lines are mixed up all the time.
Onboard we have equipment for pretty big fish. We use fake plastic lures while searching for the feeding schools and fresh bait on social trawling gear near the feeding frenzy area, with the largest equipment. Our crew is very knowledgeable about these kinds of fishing and usually, can find and catch the fish.
Our philosophy about fishing and the good life
There is the old Greek wisdom that says " the fisherman and the hunters' plates are full ones out of every 10 days" so no guarantees that we will actually catch fish. But the day will be fun for sure with good drinks, good talk, and stunning Halkidiki views.
As a great Greek fisherman once told me "the quality of fishing is directly related to the number of beers" (or tsipouro I would add).
send us an email to
Don't forget to mention:
Number of Persons, Possible Dates, Area
If you require a skipper (applies to multi-day charters only)
The hotel you 'll be staying (applies to day charters only)

Check out our Tripadvisor reviews: just type "CharterAyacht, Neos Marmaras" in their site or mobile app search to see our 5* reviews.
Categorised in: Fishing tips & fish information, Halkidiki information
This post was written by Ivanova