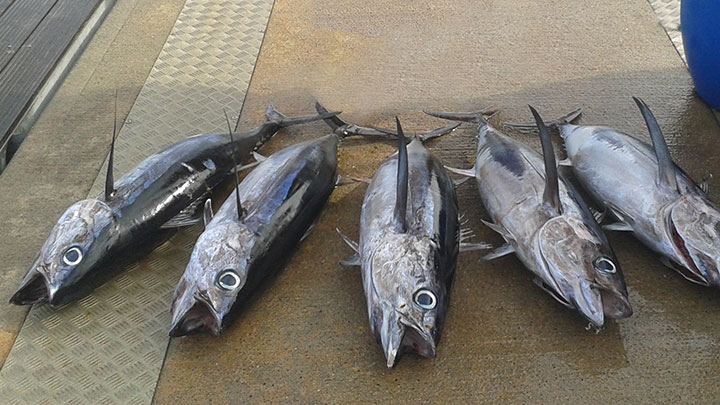 Halkidiki tuna game fishing, 10kg to 30kg fish
Halkidiki fishing at Toroneos gulf between Kassandra and Sithonia, 2023, season
About fishing on your day trip
We exclusively do trawl fishing on our day trips, sustainable practice with little impact on the fish populations.
Read more information about it in this guide…>
Get ready to experience and have fun with a Halkidiki fishing day trip. Game Halkidiki fishing for tuna or light trawling fishing for palamida, you will have a fun day in the water. you can even combine it with the family and make a stop for swimming and a taverna stop for fresh fish. Our experienced captains will take you to places with plenty of fish and especially tuna not very far from the coast. For those with no previous experience, we will fully inform you on the methods of game fishing, how to use fishing gear and how to find fish. The typical tuna size is 8 Kg and more. The boat takes off early in the morning from Neos Marmaras or Pefkochori. The only thing you need to bring with you is your sunglasses your hat and sunscreen and a camera. Enjoy the journey and return with fish to barbecue with friends.
We can go fishing for a lot of kinds of fish. Tuna, bluefin, albacore, yellow-fin mainly. Sizes differ from 10 kg to 60-80. The season starts from late July to late November. Swordfish and Mediterranean marlin (very rare) all seasons, Mackerel (palamida) from late June to late November.
We focus on these game fish species to provide the best experience for clients. All these are trolling species.
And if Tuna is nowhere to be found Mackerel typically end up on our grill. Kynigos (Mediterranean mahi-mahi) also is great for fishing as it's a very strong fish.
Besides as one of our regular guest has said:
"Halkidiki fishing quality depends on Beer (or Ouzo) Quantity…"
… and our appetizers I would add.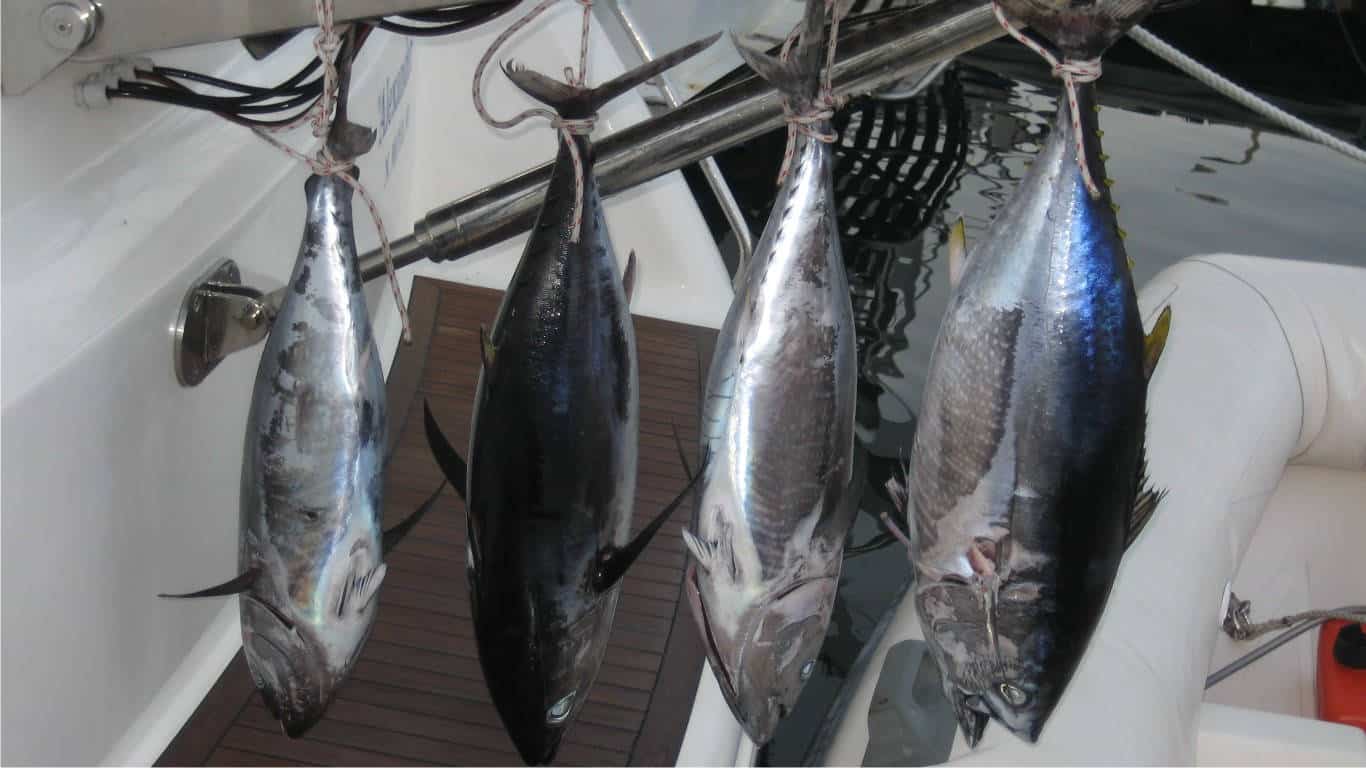 The best part is the expert fishermen that with full knowledge of the area can make this trip a great experience. Cooking of the catch immediately onboard and Greek specialties along with ouzo and tsipouro make it a day to remember.
Fishing gear is included. At any given time we troll a minimum of 5 big game gears. Each rod reel combination, depending on the target species is optimized. Typical gear is 30-50 lb Penn rod with senator 9/0 Penn reel and 800m of 0.8 clear fishing line. This combination is good enough for 100 kg fish and bigger. Leaders are made of high-quality fluorocarbon lines. There are larger gear and smaller gear. We have an electronic tuna teaser, forward-looking sonar (on specialty prepared sailboat) also we use an aftco harness. Very extensive lure collection with a lot of Rapala and Williamson lures and squids. Actually, the most effective lures are handmade by us.
Take the best photographs of your holidays.
All boats have a minimum of 8 guests capacity, WC, hot water, fully equipped kitchen, safety equipment, Radio CD player, Bimini top (tent over the cockpit), dinghy (small inflatable boat with engine).
Included:
all the necessary equipment for game fishing, light and heavy trolling
VAT.
Boat fees, Professional skipper, marina fees.
Fuel (for sailboats), Water, Electricity.
Drinking water
coffee or tea
snack s
soft drinks
sandwiches
we cook on board some appetizers and lunch.
Not included:
Fuel (for motor yachts)
dinner
beach towels
send us an email to
Don't forget to mention:
Number of Persons, Possible Dates, Area
If you require a skipper (applies to multi-day charters only)
The hotel you 'll be staying (applies to day charters only)

Check out our Tripadvisor reviews: just type "CharterAyacht, Neos Marmaras" in their site or mobile app search to see our 5* reviews.
Categorised in: Halkidiki daily boat trips
This post was written by christoforos