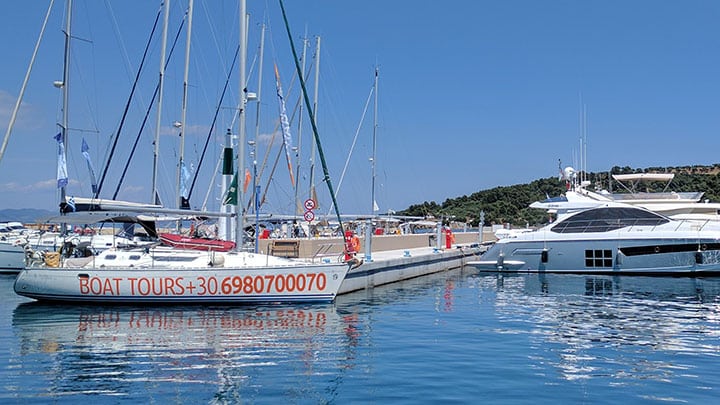 Pefkohori or Miraggio motor yacht cruise
2023 Private Toroneos Cruises
Our company offers private cruises and gives the opportunity to travelers to enjoy the beaches of Halkidiki by boat or do activities like fishing and snorkeling all by themselves! Yachts available for private cruises with capacity is up to 8 passengers who due to our boat design can move easily along the boat and change their view depending on the situation. You have plenty of room to feel comfortable and enjoy your cruise. We will be happy to offer you a private cruise and show you our beautiful beaches in one of the lowest prices you will find in Halkidiki! Our boat has life-jackets for everyone and all necessary safety equipment every cruise boat needs to have along  with a professional and experienced captain.
You can choose between a few cruises we suggest,  daily cruises along the beaches of Kassandra or Sithonia and Kelyfos island or arrange a fishing trip at spots which only professional fishermen are aware of. The time of departure usually is 11 am for all day cruise.
Daily Kassandra cruise
Our boat starts from Pefkohori dock heading south while you enjoy the view of Pefkohori and the beaches close to it by sea. The first stop we make is at Golden beach where you can swim at clear  waters and have fun at a sandy and quiet beach or snorkel near the rocky area of the bay. Next we are heading to Xenia beach where you can see one of the most attractive beaches of Kassandra which most people prefer to choose as destination. Our third stop is Kavo Paradiso one of the most quiet beaches which is a place without easy access to it, in a beautiful corner of  mountain, sea and beach. Our final destination is the new 5 star hotel Miraggio where you will find out yourselves  why it became so popular and desirable!
Daily Sithonia cruise
Our boat starts from Pefkohori dock heading towards Sithonia while you enjoy the freedom of open sea.Our first stop is villa Carras beach a small paradise with clear green waters close to nature accessible only by sea. The second stop we make is Neos Marmaras, a  traditional village of Sithonia and a place where tourists find attractive for many years now. Our last destination is Kelyfos island which is located between Kassandra and Sithonia. You can swim and snorkel in a place untouched by people and feel how it is to be in a lonely, uninhabited island.
send us an email to
Don't forget to mention:
Number of Persons, Possible Dates, Area
If you require a skipper (applies to multi-day charters only)
The hotel you 'll be staying (applies to day charters only)

Check out our Tripadvisor reviews: just type "CharterAyacht, Neos Marmaras" in their site or mobile app search to see our 5* reviews.
Categorised in: Halkidiki daily boat trips
This post was written by christoforos