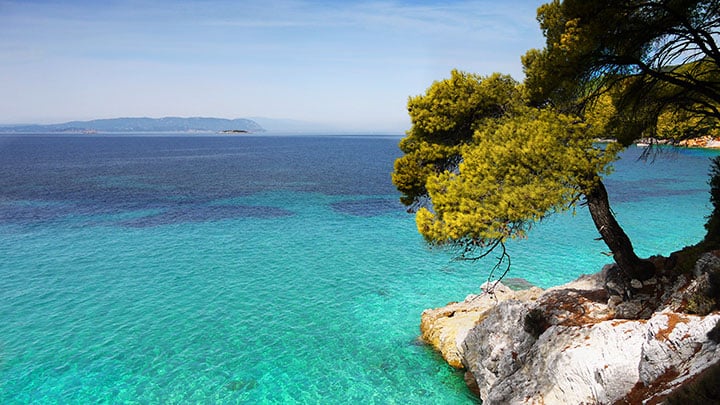 4 days Halkidiki 2023 holidays sailing packages review
Four days in the secret yachting paradise, Halkidiki Sailing holidays packages for 2023. Let's review the options.
What is "Chalkidiki" or Halkidiki 2023 holidays sailing packages and why should I choose it for my limited relaxing time?
It's one of the least known tourist areas of Greece, that has been enjoyed mainly by the people of Thessaloniki (a city known for the cuisine and lively nightlife). More and more travellers are starting to discover this largely unspoilt area with its unbelievable natural beauty, warm weather and fresh fish tavernas.
Chalkidiki is a blessed place!
Now when you go yachting and sailing instead of the road, it's on another level. Sure some of the places you can visit them by car, but the best coves, islands and reefs are inaccessible, too far down the dirt road, or impossible to find unless you are on a yacht for your holidays. Not to mention the scenic little ports that are most enjoyed on a boat than any other way. Believe me, I have done it both ways. And some taverna restaurants you would never find them without your local skipper.
Halkidiki holidays sailing packages is just that, great holidays.
Here is the proposed itinerary. Halkidiki sailing holidays will take you on a tour of some of the most beautiful places and villages of Chalkidiki. The distances covered each day are not too large, so there will be plenty of time to get there sailing and make stops for swimming, snorkelling, relaxing, beach bar hopping, it's everybody's choice.
Why Halkidiki sailing holidays for four days
The 4 day trip has been designed for travellers that want to spend some time at a hotel and then on a yacht, or for people who want to get as much as possible out of the limited time they have for holidays. It's the way to the best places to visit in Halkidiki
Sailboat cruise to Kassandra, Sithonia route
Vacation itinerary
Departure from Neos Marmaras after 16:00 to a nearby heavenly Halkidiki beach to relax after a long day travelling to our base. Return to Marmaras for our local wine and cheese tasting. Marmaras is a Halkidiki nightlife hot spot!

Leave the morning and Explore Cassandra peninsula south-east. Stop at Pefkochori village for a coffee, Glarokavos, Golden beach, Hrousos, do some sailing, and dock at Miraggio Marina for spa and gourmet restaurants and the night.

Sail to the south most tip of Sithonia, Marathias beach, Porto Koufo for lunch, Toroni and Tristinika beaches and spend the night at Agia Kyriaki cove where there is a taverna for fresh fish.
Early swim and return to Neos Marmaras by 10:00
Best Halkidiki holidays package, ever!
We decided not to hide any costs, so the prices include airport transfers, V.A.T., fuel, Skipper, bed linen & towels, toiletries, pretty much anything you will need. You don't have to buy toilet paper, we have. Also, plates, glasses, forks and knives, pots and pans, the kitchen of the yachts is fully equipped. We even got you covered, for a first evening to start with a local wine and cheese tasting before going for dinner. And the skipper always has some nice surprises onboard so you 'll taste local produce. Remember all our local skippers have deep knowledge of Sithonia, Kassandra and mount Athos.
We only didn't include food and drinks and for good reason. After all, it's your holidays and you should choose the quality of your food and beverages. So the first day the skipper will take you to a supermarket to get whatever you need. It's close by and has a large variety of everything. Now there are two trends of yacht provisioning on Halkidiki holidays sailing packages:
I want to eat out system means you buy wine, fruits, sandwiches fillings, sodas, etc and you plan for the boat to be in a port every evening so you can have dinner at a taverna.
for the cook on board enthusiasts, buy everything (not to worry, the boats refrigerators are deep and big) and enjoy cooking. this means that the boat can stay to a scenic cove for the night if you want to live the experience.
I have to say that the actual route you will be doing may vary. It's up to you really, you can even do a Sporades trip in 4 days. Just listen to your skipper, while on your Halkidiki sailing holidays, he knows what the coming day's weather is, can very fast assess your waves movement tolerance and will suggest the most interesting and comfortable program for you.
About fishing on your holidays to Halkidiki
We exclusively do trawl fishing on our day trips, sustainable practice with little impact on the fish populations.
Read more information about it in this guide…>
Four days Chalkidiki sailing holidays route map
Halkidiki is a peninsulas series just South of Thessaloniki, a (1 million population) Northern Greece city. Mainland is a large mountainous area, but it also has 3 long and thin forested peninsulas with a lot of secluded beaches in Halkidiki and some small islands. One them is Mount Athos, an ancient monastic sanctuary, with 1000-year-old monasteries and a forbidden avaton for women. Last few years a number of small ports have been constructed making it a little-known yachting heaven.
Unlike other popular destinations that are blistering with yachts, its possible to find a place to dock any time, so you can stay and enjoy the sea until late. You don't have to be at the port by 16:00 like it is in the Ionian sea (or you won't find a spot for mooring). By the way, the sailing is better than Ionian as we do get a boukadoura south-west sea breeze, 8-14 Knots of the wind, every day. Exactly right for vacation sailing, novice or expert sailors. Sometimes we have a healthy Meltemi wind from the North East but it normally is much much milder around force 4 and on the leeward of Sithonia. And with the ports and coves no more than 10-15 NM it's probably one of the safest places for sailing anywhere in the Mediterranean sea. No tides worth mentioning by the way.
Why Halkidiki is great for Halkidiki holidays sailing packages
Halkidiki, when you visit it and go around by car is a great vacation spot. You see it's both south enough not to freeze a lot in the winter and has plenty of rainfall, so its magnificent pine forests can grow all the way down to the beach. By God's design, the beaches are generally exposed to the harsh winter southerlies that grind the rocks to a comfortable sand, just thick enough to enjoy and not irritate (like the tropics). And the bays are large enough for the water to freely clean everything so you get the perfect combination of forest, beach and crystal clear waters. That is why every year hundreds of thousands of tourists come and enjoy it. Halkidiki sailing holidays is one of the easiest ways to have a short sailing trip.

Have a look to our seven days Halkidiki holidays sailing packages if you have more days to relax.
For more information, you can have a look at our pages about 2023 Halkidiki sailing holiday packages
Categorised in: Halkidiki holidays
This post was written by christoforos