2023 Sailing trips & boat tours in Halkidiki from Kassandra or Sithonia
Day boat trip to Chalkidiki, Sithonia or Kassandra, aboard a sailing yacht. Your 2023 summer holiday is the perfect time to join in a skippered sail for the day.
Group day sailing boat trips in Kassandra or Sithonia are unforgettable experiences that allow you to explore the stunningly beautiful Halkidiki island while basking in the warm Aegean sun. As they sail around this historical and mythical sea, visitors can discover incredible hidden bays, magnificent beaches, and gorgeous crystal-clear waters.
Kassandra and Sithonia are two of the most beautiful peninsulas in Macedonia's Halkidiki region, surrounded by the breathtakingly beautiful turquoise waters of the Aegean Sea. Group day sailing trips allow you to experience the beauty and complexity of these breathtakingly beautiful islands, both of which have rich and fascinating histories.
Potential visitors who want to join a group day sailing trip in Kassandra or Sithonia must first decide which type of sailing voyage they want to participate in.
Options include:
a standard 3-hour morning sailing tour
a 2-hour early morning fishing trip (pending availability)
a 2-hour sunset cruise
5-hour-long midday to afternoon sailing excursion
Depending on the type of trip, each can offer the opportunity to discover hidden coves, sail through islands, travel around beaches and bays, and take in breathtaking views. After deciding on the type of trip, the next step is to make a reservation. This can be done at our sailing tour agency in Kallithea, Kassandra (Smyrnis and Konstantinoupoleos str) or online. If you are staying in or near Kallithea, Pallini, Kryopigi, Polyhrono, Haniotis, Pefkochori, Paliouri, or Chrousso beach, transportation is included in the price. If you have your own transportation, you can save money and come by yourself. There is no transportation provided for departures from Neos Marmaras, but most hotels in the area provide service to and from the port. There's a trip for every budget and every location!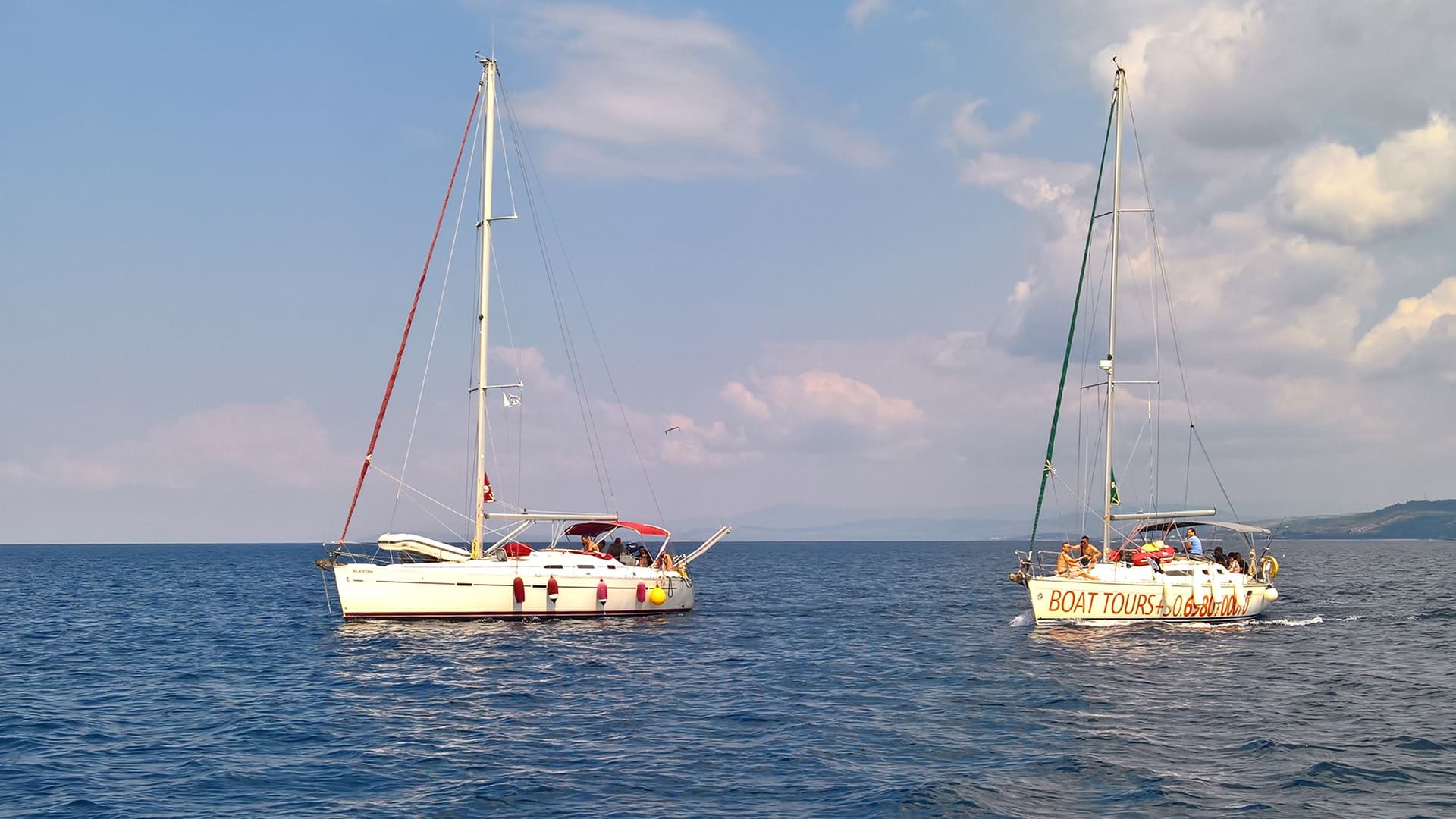 Book now!
For all our join a sailing trip prices include:
ticket for the boat
skipper
fuel
taxes
travellers insurance
marinas & ports fees
drinking water
coffee or tea
& transportation (if it is available for your area)
Once the trip is booked and the day of sailing arrives, group members need to make sure they are prepared by taking adequate clothing and protection from the sun, as well as any food, drinks and snacks. Once the boat has set off, it is a perfect opportunity to take in the stunning surroundings, the movements of the boat and the tranquillity relaxed atmosphere at sea. Depending on the type of trip chosen, experienced crew members will make sure visitors are provided with the chance to SUP, go swimming, snorkel, fish and more.
send us an email to
Don't forget to mention:
Number of Persons, Possible Dates, Area
If you require a skipper (applies to multi-day charters only)
The hotel you 'll be staying (applies to day charters only)
Group day sailing trips in Kassandra or Sithonia are unforgettable experiences which offer the chance to explore incredibly beautiful areas of Greece in relative comfort. Whether taking part in a standard sailing tour, a fishing trip, a sunset cruise or a day excursion, each provides the chance to take in the stunningly beautiful bays and beaches which encircle the two peninsulas of the Halkidiki region in Macedonia.
Sailing around the 'legs' of Halkidiki for a day can be a unique experience. We leave in the morning from Neos Marmaras port, Porto Carras marina or Hrousos pier at 10:00, 13:00 or 19:00  for a sailing tour of Toroneos Gulf.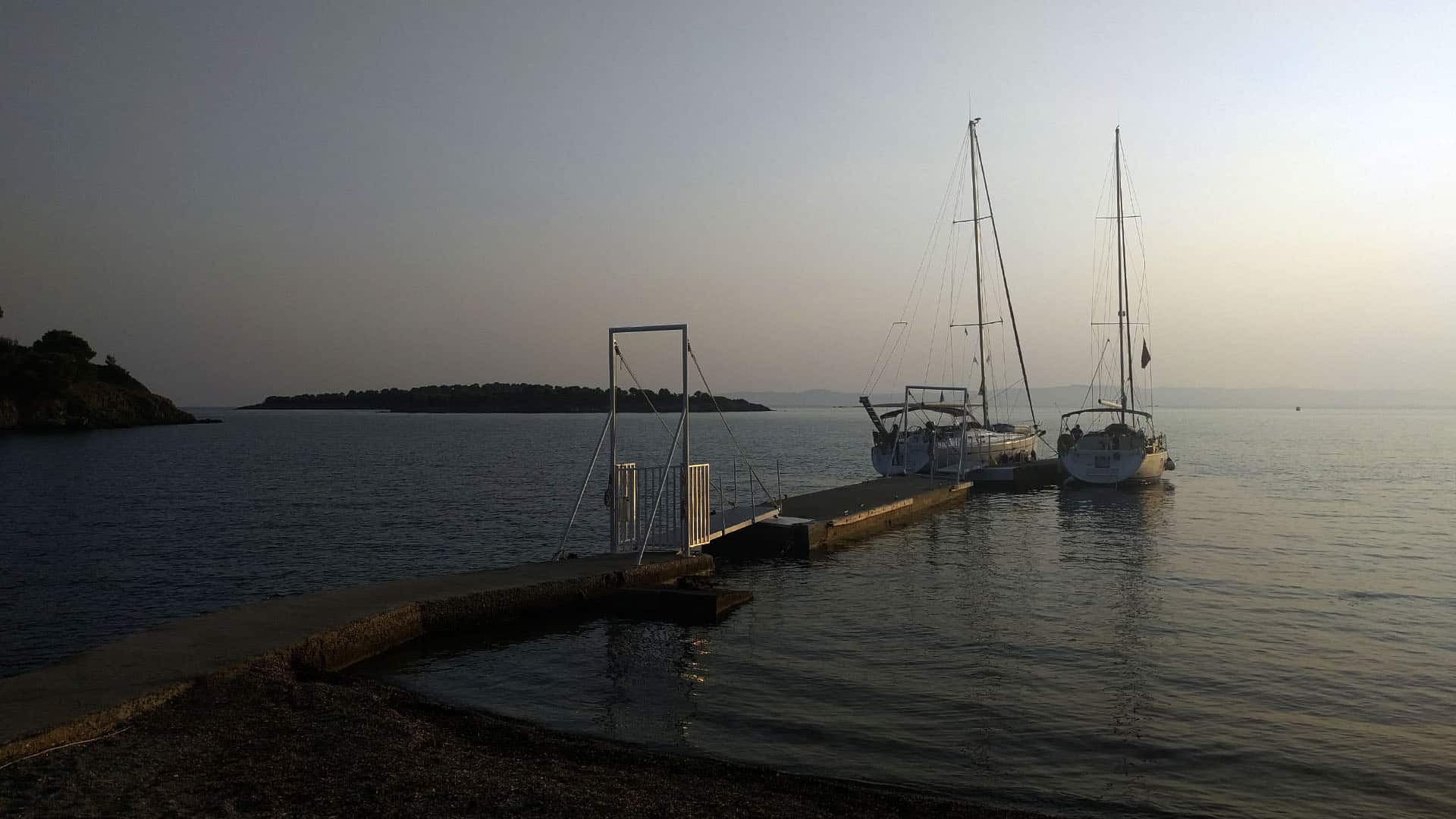 The best thing to do in Halkidiki is to join groups on a sailboat in the Halkidiki region.
This region, Chalkidiki is sailing heaven. Every day from noon to sunset during the summer holidays of 2023, a sea breeze forms. Just strong enough to make sailing fun, and just right for beginners to enjoy the amazing feeling of moving with the wind on the water. Without a car, it's just you and nature. The Halkidiki region has beautiful beaches and a pine forest that goes right down to the water. It's a typical hot summer day in Greece. So, if you want to spend your holiday in our area, you must do a boat charter, which is a trip to Sithonia or Kassandra with a skipper on one of our sailing boats.
Day sailing trips from Thessaloniki
The trip from Thessaloniki to Neos Marmaras takes 1 hour and 15 minutes, which might seem like too long, but it is well worth it. If you choose this excursion, you will have a full day that includes driving through a beautiful pine forest on the way to one of the best times you've ever had on the water.
It is rated as one of the best Halkidiki excursions on Tripadvisor
We can help you get a rental car or a transfer for your group.
Halkidiki day sailing – Yacht charter starting point
Access to the embarkation point of Neos Marmaras, Sithonia, Halkidiki – Greece is easy from Gerakini, Psakoudia, Metamorphosis, Nikiti, Akti Elias, Lagomandra, Vourvourou, Ormos Panagias, Agios Nikolaos, Pyrgadikia, the 2nd leg of Halkidiki – Sithonia in general, where we start our sailing tours. From the 1st leg of Kassandra, we use  Hrousos pier for guests from N. Moudania, Nea Fokea, Athitos(Afitos), Sani, Kallithea, Kriopigi, Polychrono, Haniotis, Pefkochori(ex Kapsohora), Paliouri, Loutra Agias Paraskevis, Skioni, Possidi, Fourka, and Siviri boat charter. Free transfer is provided from the east Kassandra coast villages that are southern to Kalithea.
Itinerary of the Halkidiki Day sailing from  Sithonia
Our first stop is Kelyfos, also known as Helona (which means Turtle or ереаа). Swim in crystal clear waters or snorkel because the rocky bottom is rich in marine life. After that, the usual sea breeze passed, and we set sail for the south to Gerochristos Island and Lemos Beach. The sea is on both sides of the sandbar that connects the peninsula to the mainland. Famous movie star yachts have visited the beach. It used to be just the two of us, but now everyone wants to go to Angelina Jolie's beach. On the yacht, you can eat your sandwiches. After lunch, we tour the secret coves south of Neos Marmaras and stop for one last swim before returning to Kamenos, one of Halkidiki's most scenic beaches. The green of the trees reaches all the way to the clear waters here.
The itinerary may change due to weather, the skipper's discretion, or if the guest wishes to do something else, such as eat lunch on the way for more sailing time.
send us an email to
Don't forget to mention:
Number of Persons, Possible Dates, Area
If you require a skipper (applies to multi-day charters only)
The hotel you 'll be staying (applies to day charters only)
About fishing on your day trip
We exclusively do trawl fishing on our day trips, sustainable practice with little impact on the fish populations.
Read more information about it in this guide…>
For a day trip, you can sail from Kassandra, the Hrousos pier at Paliouri Beach, or the Miraggio marina. If you want to get away from the tourists for a day, go sailing. You can rent one of our boats. Have more fun than ever with the sun, the sea, and the breeze.
Checkout our online booking system for private fishing trips here:
send us an email to
Don't forget to mention:
Number of Persons, Possible Dates, Area
If you require a skipper (applies to multi-day charters only)
The hotel you 'll be staying (applies to day charters only)
Or you can book any of our "typical" trips and ask the skipper to do some trawl fishing while hopping from one beach to the next. Its a lot of fun as our routes bring us over some excellent fishing spots, and the skipper will deviate from the route if possible to go near fish signs on the water.
There is a small extra charge of 10 euros per person for this paid onboard.
Itinerary of the Halkidiki day sailing from Kassandra.
We pick you up from Hrousos Pier at Paliouri Beach at 10:00, 13:30 or 19:00 depending on the tour you have chosen.
5 hour trip, to visit the Spalathronisia area, laimos beach, Gerochristou island peninsula, The water is warm and crystal clear.
Then last stop at Kelyfos Island before returning back
3 hour or 2 hour trips take a different route along the Kassandra waterfront North or South depending on the weather. We take you to some beautiful areas and beaches.
This package of the sailing day is ideal for birthdays, anniversaries and any kind of party you can think of.
Surprise your loved one or friend
Let us know to take care of the cake, champagne, wine or any other surprise you like.
Away from the tourist crowds.
The only things that you really need are a hat, swimsuit, beach towel, suntan, and sunglasses.
Join a day trip on a luxury sailing yacht! It will be the best part of your holidays to Halkidiki.
All boats have a minimum of 8 guest capacity, WC, hot water, fully equipped kitchen, safety equipment, Radio CD player, Bimini top (tent over the cockpit), cockpit pillows and SUP. One cabin is at your disposal to store your stuff, change clothes, for the kids to rest, etc.
Why do we go sailing to West Sithonia
It is a very beautiful place.
With a lot of hidden coves that can't be reached by car where guests who like privacy can swim and relax alone.
It has a few beach bars that only the Greeks who live there know about. Those who like to party can go there.
Most of the time, the winds are calm, and the boukadoura wind (sea breeze) comes from the south around noon, which is a great time to sail.
The main reason we don't start the tour earlier is that there is usually no wind in the morning.
If the Meltemi wind is a bit strong, we can sail close to land to avoid a rough ride or use it to sail better and faster.
Because of this, our base is in Neos Marmaras, Sithonia, at Halkidiki, Greece. This also lets us pick up people from the Kassandra peninsula and take them away from the crowded beaches to some of Sithonia's most beautiful places.
What about Mount Athos? Can we tour it as part of our trip?
Mount Athos is too far away from where we are staying to be included in our itinerary. In fact, there is nowhere in Halkidiki where we could begin that would justify a sailboat trip to Mt. Athos. It takes about 2 hours to get there and 2:30 hours to get back. Plus at least 2 hours to look around at the closest spots, such as Skala Sykias. This means that the boat will be sailing (or, more likely, motoring) for more than 6:30 hours without stopping for swimming as a result, our visitors would spend the majority of the day outside in the sun, with no time for swimming or lunch breaks.
We've all been there and done that, and no one liked it. Remember that the monasteries can be seen from at least 500m away (it is prohibited to go closer to land and regularly enforced). The monasteries are beautiful, but it's not the same as actually being in one. It's like looking down from a nearby hill at the Parthenon. If you want to see Mt. Athos, we recommend taking one of the large boats from Ormos Panagias and spending the morning there. And another day of relaxing on the water with us.

For private trips, call us or book directly to:
To join other groups for a sailing trip book here:
or contact us for details and last-minute offers
send us an email to
Don't forget to mention:
Number of Persons, Possible Dates, Area
If you require a skipper (applies to multi-day charters only)
The hotel you 'll be staying (applies to day charters only)

Check out our Tripadvisor reviews: just type "CharterAyacht, Neos Marmaras" in their site or mobile app search to see our 5* reviews.
Categorised in: Halkidiki yacht trip
This post was written by christoforos